Admiral Group plc (LON:ADM) has reported resilient 2022 full year results against a backdrop of high inflation.
2022 Results Highlights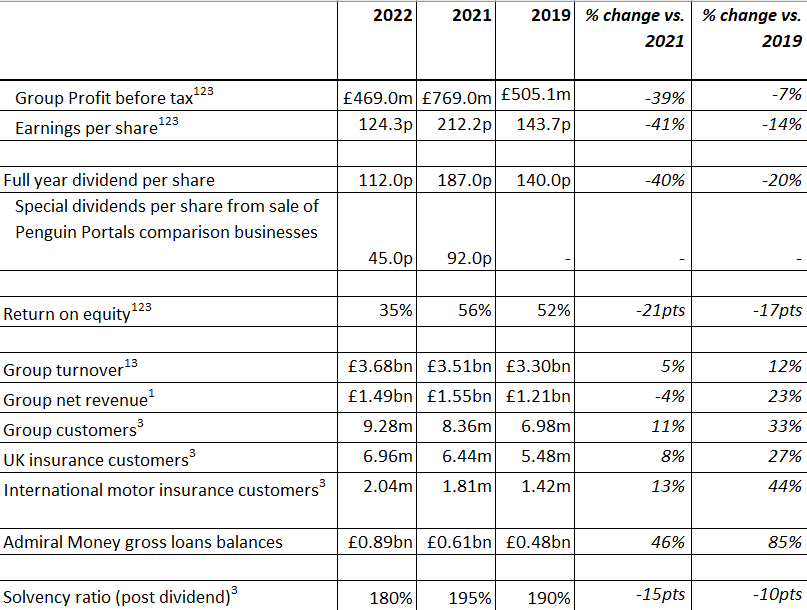 Comment from Milena Mondini de Focatiis, Group Chief Executive Officer:
"I am proud of the agility and adaptability that Admiral demonstrated in 2022 as it increased its customer base by 11% and delivered profits of £469 million against the backdrop of a challenging market environment.
"We have yet again shown focus and discipline, reacting quickly to emerging trends – we implemented price increases ahead of others in response to higher inflation whilst maintaining a conservative approach to reserving and capital management.
"We continued to make progress on our diversification strategy with Admiral Money making its first profit, continued growth across the Group particularly in new products, and growing new partnerships and distribution channels in international insurance which now has over two million customers.
"We are aware that this has also been a challenging year for our customers and our people and looking after them is our core purpose. We continue to invest in our data and technology capabilities to be sure that we serve our customers better. I would like to thank all my colleagues across the Group for their hard work and dedication.
"And today we continue to be well-positioned for when the market improves given the combination of our proven competencies in underwriting and distribution, our willingness to innovate and to test-and-learn, and our commitment to people."
Comment from Annette Court, Group Chair:
"I am honoured to be leading the Admiral Board as the Group enters its 30th year and am proud of how it has led the market in taking strong action in response to external conditions, focusing on long-term value creation.
"As previously announced, I will step down as Chair at our AGM in April, and I leave with a mix of pride and deep fondness for this very special company. Admiral is a company that has always been fast to adapt and has a proven track record of navigating the cycle. It remains focused on evolving its existing competences whilst creating sustainable businesses for the future.
"I am delighted that Mike Rogers will take on the role of Chair and wish the Board, Milena and the whole leadership team every success for the future."
Final dividend
The Board has proposed a final dividend of 52.0 pence per share (2021: 72.0 pence per share, plus 46.0 pence per share special dividend from the sale of Penguin Portals) representing a normal dividend (65% of post-tax profits) of 37.5 pence per share and a special dividend of 14.5 pence per share. The dividend will be paid on 2 June 2023. The ex-dividend date is 4 May 2023 and the record date is 5 May 2023.
Management presentation
Analysts and investors will be able to access the Admiral Group management presentation which commences at 8:15am GMT on Wednesday 8th March by registering on the Admiral website at https://admiralgroup.co.uk/2022-full-year-results. A copy of the presentation slides will also be available on the website.
Chair Statement
I am honoured to be leading the Board of Admiral as the Group enters its 30th year – happy birthday Admiral! As previously announced, I will step down as Chair at the AGM in April 2023 having served 11 years on the Board, with six of those as Chair. I leave with a mix of pride and deep fondness for this very special company which I believe remains one of the FTSE 100's best kept secrets.
This year has, once again, been challenging for the sector due to the macro-economic environment. The Ukrainian-Russian war impacted energy costs, high inflation led to higher claims costs and, in the UK, the market adjusted to the FCA's pricing reforms.
As a result, Admiral has reported lower Group profit of £469 million with turnover of £3.68 billion. This is driven by UK Motor insurance profitability. Admiral has led the market in taking strong pricing action to combat claims cost inflation and continues to focus on long-term value creation.
Despite the challenging backdrop, our customer numbers are up 11% to 9.28 million and our solvency remains strong at 180%. The UK Motor insurance marketplace is cyclical and we believe we are now close to the bottom of this cycle. Admiral has a proven track record of quickly adapting to navigate the cycle and remains focused on continuously evolving its existing competences while creating sustainable businesses for the future.
Looking back
Admiral is a special business with a distinctive culture. Our purpose – To help more people to look after their future. Always striving for better together – underpins everything we do and ensures that we strive to do the right thing in consideration of all our stakeholders.
I am immensely proud to have been part of Admiral's success story. It has been a hugely enjoyable and rewarding experience.
During my time on the Board I have experienced the transition of CEOs from Henry to David, and then to Milena – all have strong entrepreneurial leadership skills, passion for the Admiral culture, and a focus on building on our competitive advantages whilst evolving the strategy within the emerging landscape.
I'm often asked what has been key to Admiral's success and, essentially, I believe it's a lot of small things that have never changed and make a big difference:
Delivering for our customers – Admiral remains focused on 'the customer, the customer, the customer' and during my time on the Board, customer numbers have grown from 3.6 million in 2012 to 9.3 million in 2022 – a testament to our customer-centric approach.
Admiral's relentless focus on the fundamentals of risk selection, pricing discipline, claims effectiveness and expense efficiency underpinned by a healthy obsession with data and analysis and a low-risk approach.
Admiral's agility, innovation and culture of continuous improvement through a test-and-learn approach has ensured that it creates products and services that truly meet customers' evolving needs. After all, it was Admiral that launched the first car insurance comparison site, the first 10-month policy, and accelerated the adoption of multicar and multicover.
Admiral's commitment to doing the right thing and strong conviction and ethical foundation means it's perhaps unsurprising that we were the only insurer in the UK to issue a £110 million Stay-At-Home refund for UK customers during the Covid pandemic and we established a £6 million Covid Fund to support impacted communities.
Admiral's culture – this drives all of the above. We believe that 'people who like what they do, do it better'. We are always looking for new ways to add value and have consistently been recognised as a great place to work for over 11,000 colleagues. A key foundation stone of Admiral that has been continuously reinforced as the company has grown is that everyone matters regardless of their role. This is demonstrated by the fact that all colleagues4 receive shares in the company every year.

Evolution
Although elements remain constant, Admiral continues to grow and evolve, with a key pillar of the strategy being diversification. We are making great progress in most operations, and have now built, amongst others:
A significant UK household business which is growing strongly and now serves 1.6 million customers
Admiral Money, our UK loans business which has achieved a small profit in its fifth year and is taking a suitably prudent approach to increasing its book
Sizeable and growing businesses in Europe
Admiral Pioneer, a business that builds on our traditional test-and-learn approach to focus on diversification through new business areas
A business in the US, which is a challenging market, and for which we are considering options

Almost half of our customers are now from non-UK motor insurance business.
Dividend
Our proposed final dividend of 52.0 pence per share brings dividends for the year to 112.0p per share, a full-year pay-out of 90% against a backdrop of after-tax profits (from continuing operations) 36% lower than last year. The final dividend of 52.0 pence per share comprises a normal dividend of 37.5 pence per share and a special dividend of 14.5 pence per share. The Group has delivered a Total Shareholder Return (TSR) of 259% over the last 10 years.
People
Once again Admiral was recognised as a Great Place to Work in 2022, including being awarded 19th best workplace in Europe and fourth best workplace in the UK. We also received an award for being in the Best Companies list for 20 consecutive years and received awards for diversity and wellbeing. These accolades help to position us as a destination employer which is crucial in the current competitive market for talent.
Having our people as shareholders remains a distinctive element of Admiral's incentive schemes. These are designed to ensure that decisions support long-term value growth, that the right behaviours are rewarded and that our people's interests are aligned with those of shareholders. We believe that, over the long-term, share price appreciation depends on delivering great outcomes for our customers.
Customers
Admiral's purpose is to help people to look after their future and the business has really lived by its purpose during the year, ensuring that Admiral has been there for its customers when they need us most.
The UK business has invested in technology that reduces the time it takes to settle motor claims – hopefully removing a pain-point during what can be a stressful time for customers.
In response to the cost-of-living crisis, our teams have looked at ways to help and support insurance and loans customers who are financially vulnerable.
2022 saw extreme weather from flash floods, to forest fires and a freeze event. Admiral colleagues chose to take a proactive approach, identifying customers in the impacted areas and contacting them to understand how we could support them. These are just a few examples of the little things that the business does that can make a big difference for customers, and that make me proud to be a part of Admiral.
The Board in 2022
The Board recognises the need for a strong corporate governance framework and supporting processes across the Group and believes that good governance, with the tone set from the top, is a key factor in delivering sustainable business performance and creating value for all the Group's stakeholders.
The Board has been able to resume meeting in person this year as well as visits to colleagues overseas. I have visited our overseas locations along with one or more fellow non-executive directors (NEDs) and we also attended Employee Consultation Group (ECG) meetings. These allowed us to keep contact with our people and directly hear their views and the challenges they face. The Admiral culture still shines through.
Jean Park stepped down in January 2023 after having served nine years on the Board and chairing the Group Risk Committee. She has also been a member of the Remuneration and Nominations and Governance Committees and acted as the Senior Independent Director. We will miss her unstinting support and wise counsel. I would like to thank her on behalf of the whole Board for her huge contribution.
Our focus areas for the Board remain to:
Continue to build on the remarkably special Admiral culture and in so doing putting our people, customers and wider impact on the community at the heart of what we do
Continue our long-term trajectory of growth, profitability and innovation
Invest in the development and growth of our people
Ensure excellent governance and the highest standards
Focus on all aspects of ESG

Our role in society – doing the right thing
Admiral takes its role in society very seriously and has an active approach to Corporate Responsibility which focuses on all our stakeholders and the wider impact we have (more information in the Sustainability Report on the Admiral website). We are proud to be Wales' only FTSE 100 headquartered company. We employ over 7,500 people in South Wales and our people play an active part in the communities in which we operate. We carefully consider our impact on the community and environment, including factors such as the green credentials of our buildings, raising funds for multiple charities, and the impact of climate change across the business.
As previously announced, the Group's ambition is to be net zero by 2040 and to be net zero across our operations for scope 1 and 2 emissions by 2030. The business verifies its carbon emissions for our current operations using a third party and these were subsequently offset to become carbon neutral. We will apply for approval of our Science Based Targets in 2023. Our aim is to be an economically strong and responsible business over the long-term, guided by a clear purpose, to make a positive and significant impact not just on our customers and our people, but on the economy and society.
New Chair
I am delighted that Mike Rogers will take on the role of the new Chair of Admiral5. He has a great track record and significant experience which will benefit Admiral in its next exciting phase of evolution – and demonstrates a great understanding of the Group's culture.
I am confident that the current Board and new Chair are well-equipped with the skills and knowledge to continue to build and strengthen Admiral and build a sustainable business in the long term while retaining Admiral's distinctive culture.
Thank you
I have thoroughly enjoyed every year I have been part of Admiral. I am grateful to our shareholders for their support as I stayed on as Chair to ensure a successful transition to Milena as Group CEO.
I would like to thank Admiral's customers for putting their trust in us and our colleagues for their dedication in ensuring that we are there for customers when they need us most.
I wish Mike, Milena and the whole leadership team every success for the future and I will be cheering Admiral on from the side lines.
I feel privileged to have been part of this special company. Thank you for your support.
Annette Court
Group Chair
7 March 2023
Group Chief Executive Officer's Review
2022 was another year of navigating stormy waters and, once again, we've adapted well and shown ourselves to be disciplined and agile as we increased our customer base by 11% to 9.28 million while delivering profits of £469 million6.
We've not been immune to the changes in external conditions including the implementation of the FCA's pricing reforms, increased claims frequency post Covid, supply chain challenges, adverse weather and high levels of inflation which had a very big impact on our business, particularly on the cost of claims. At times, over the last 12 months, it has felt similar to sailing in the middle of a storm: knowing the desired destination but with the challenge of recognising when to steer into the winds that try to blow us off course – whilst never losing focus on where we're going.
The cyclical nature of insurance is not new. We were quicker than most to react to the changing market conditions and implemented price increases ahead of others in response to higher inflation. Although the premium increases impacted our rate of growth in the short term, we continued prioritising sustainable growth over chasing unprofitable volumes.
This discipline resulted, for our insurance business in the UK, in delivering a profit of £616 million, above 2019 pre-pandemic levels and it will put us on a strong footing when the cycle turns.
The international markets were also under pressure with very low market average premiums in Italy and Spain. The US experienced more adverse market conditions than others. Although Elephant quickly put in place aggressive remedies, such as premium increases in excess of 25% in 2022 and a drastic reduction in advertising spend, the business registered a disappointingly high loss of £49 million7. Elephant remains an efficient operation with a strong team delivering great service to its customers – who voted it as one of the Best insurance companies in US among over 3,300 brands. We are continuing to assess the options for Elephant to reach its full potential in such a huge market.
Despite the headwinds, we were definitely not blown off course in 2022. To the contrary, we made substantial progress against our long-term objectives and continued to deliver on new initiatives that will help us to emerge from this period stronger than ever before. We're developing new capabilities, especially in data and technology, to enhance our customer experience. For example, we launched a new claims management system which will reduce settlement time for many UK motor customers and have established a Data Academy to accelerate our evolution into an even more digital-first and data driven organisation.
We believe that our diversification strategy is key to increasing our resilience over the long term, as well as to improving the engagement and experience for our customers, and by leveraging our strengths, we will deliver more value to our shareholders. Over the past year, Admiral Money, our UK Loans business, delivered its first profit in its fifth year, we launched Pet insurance and we developed new partnerships and distribution channels in international insurance.
In the UK specifically we are experiencing strong customer growth in the Household, Loans and Travel businesses that increased their turnover by 31% to £350 million combined in 2022. We now also count two million customers across our international businesses, up by 13%.
We are aware that this has been a challenging year also for our customers and our people, and looking after them is our core purpose. We continue to do our best to support customers and we have a team dedicated to supporting those more financially vulnerable ones. For our colleagues, we've responded by reviewing and making permanent adjustments to colleagues' salaries as needed and providing a range of additional benefits and support.
We always talk about the team, the team, the team because our ability to deliver is due to our all-hands-on deck approach. We now have over 11,000 colleagues whose dedication and hard work make this all possible and I'm always so proud to see the team's efforts recognised externally. This year we've received a range of awards across all our businesses and geographies. We continue to rank as one of the Best Multinational Workplaces for the 20th consecutive year by the Great Place to Work Institute and were named a Diversity Leader by the Financial Times.
Having a positive impact on our wider society is also central to our ethos. We are progressing well with our net zero goal and reduced our scope 1 and 2 emissions8 by 32% year on year. We refocussed a large part of our effort to sustain the communities in which we operate on the theme of "employability" which aligns closely with our purpose to "help more people to look after their future". We feel lucky to be part of the Admiral family that is such a great place to work, and we would like to contribute to make the world a good place to work for more people.
Speaking about the Admiral family, I am very sad to say goodbye to Annette Court who has been our Board Chair since 2017. I'll always be personally grateful to Annette for the invaluable help in the transition between David and myself, and for her wise counsel and warm support at every step of my Admiral journey. And, on behalf of all my colleagues, I would like to thank Annette for her considerable contribution to the Board, her strong commitment to Admiral and its people, and the guidance and support she has always generously offered to the wider management team over the last 11 years, while embedding the Admiral culture at her very heart. I wish Annette all the best for her future.
I look forward to working with Mike Rogers over the coming years as incoming Chair9 and I'm confident his breadth of experience in financial services and beyond will add great value to Admiral.
Finally, I would really like to thank all my colleagues across the Group for their hard work over the last year. I look forward to working together in 2023 – and crucially celebrating Admiral's 30th birthday. This is a great opportunity for us to reflect on the amazing journey the Group has been on over the last three decades and the strong foundations we laid out for the next 30 years of growth.
Milena Mondini de Focatiis
Group Chief Executive Officer
7 March 2023
Group Chief Financial Officer's Review
With the impact of the pandemic fading, spiking inflation across our markets was the big story for Admiral in 2022.
This had a number of impacts around the Group, but most important was probably the notable increase in average claims costs, especially to damage claims. We back ourselves to manage insurance cycles effectively – quickly identifying and responding to trends – and we increased prices significantly during the year, especially in the UK and US, to counteract the inflation. In the UK particularly, our rates appear to have moved materially more than competitors (until the last quarter maybe), and hence we stopped growing in UK motor in H2. Loss ratios were adversely impacted despite the rate increases.
We noted when reporting our half year results in August 2022 that 2019 is a better comparison to the 2022 figures, rather than the exceptional 2020 and 2021 years which were distorted by the huge positive impact of the pandemic on claims costs and profitability. My review of the results therefore looks also at 2019, the last pre-pandemic full year:
| | | | | | |
| --- | --- | --- | --- | --- | --- |
| £m | 2022 | 2021 | 2019 | Change v 2021 | Change v 2019 |
| | | | | | |
| UK Insurance | 616 | 894 | 598 | (278) | +18 |
| Europe Insurance | (5) | 1 | 9 | (6) | (14) |
| US Insurance | (49) | (13) | (10) | (36) | (39) |
| Admiral Money | 2 | (6) | (8) | +8 | +10 |
| Admiral Pioneer | (16) | (10) | – | (6) | (16) |
| Share scheme cost | (52) | (63) | (49) | +11 | (3) |
| Other costs | (27) | (34) | (35) | +7 | +8 |
| Continuing operations pre-tax profit* | 469 | 769 | 505 | (300) | (36) |
| Restructure cost | – | (56) | – | +56 | – |
| Continuing operations profit after restructure cost | 469 | 713 | 505 | (244) | (36) |
2022 was undeniably a challenging year, though with one or two exceptions, the Group result was pretty pleasing. There are lots of moving parts in the comparisons of course (which are discussed in detail later in this report), but there are a few stand-out observations:
Looking first at the UK Insurance result, we unsurprisingly see a big fall against 2021 but a small increase v 2019. Maybe it goes without saying, but the reduction from 2021 is very predominantly motor insurance related and is mainly due to the combination of a) the unwind of the positive covid related impacts and b) the higher inflation in 2022. Those effects led to higher current year claims and lower profit commission.
The UK Household result was also impacted by much higher than usual severe weather-related claims (seen across the market), significantly moving the result from a profit of £21 million to a loss of £6 million. If we adjust both years to take out the impact of severe weather and subsidence claims, profit would have been broadly flat at around £25 million.
Comparing back to 2019, UK profit and turnover were modestly higher in 2022, though the increase in customer numbers is much higher at nearer 30%. There are various offsetting movements that result in the higher profit, including the worse weather in 2022, but also stronger back year reserve movements and associated profit commission in 2022 compared to more positive current year claims in 2019.
In UK motor, at the end of 2022 we have reduced the size of the margin in the booked reserves (though it wasn't a significant driver of profit), in part because some of what we hold that margin for has manifested in the best estimate reserves (in terms of higher inflation). Our philosophy regarding reserving remains sacrosanct and the closing margin position remains very cautious – around a 95th percentile position – which is aligned with the top end of the accounting policy range we expect to adopt under IFRS17 from 2023. If there are no big shocks in claims development moving forward, we expect significant reserve releases to feature as an important part of profit.
Moving now to Europe, where despite the higher claims inflation and continued strong growth (+15% in customer numbers, over €600m turnover), the result was only modestly lower at a loss of £5 million vs a profit of £1 million in 2022 (£9m profit in 2019). The combined EU motor result was only very slightly negative (higher loss ratios, investing in expanding distribution in Spain were notable drivers), and we continued to invest in expanding the product line (particularly Household in France and Pet in Italy). Given the backdrop, I think it's a decent result for what continues to become a more material part of the Group.
A disappointing change in 2022 though was the Elephant result in the US, which was a bit under £40 million worse than both comparative years. The US auto insurance market experienced severe increases in the cost of claims during the year, and despite substantial rate increases, Elephant's loss ratio was adversely impacted (85% in 2022 v 73% and 82% in 2021 and 2019 respectively). The H2 result was worse than H1, as the rate increases take their time to impact the results and claims costs continued to inflate. Many or even most of Elephant's competitors appear to have fared much worse. As my colleagues have noted, we're assessing the best way forward for Elephant, and in the meantime the focus of the team is on materially improving the combined ratio and significantly reducing the loss.
And finally, returning back to the UK – Admiral Money delivered its first full year profit – small at the minute admittedly but given the economic situation, it's a fine result the team should be very proud of, and we believe it's the first of many, hopefully growing, positive results. We remain prudently provided for expected credit losses. We continue also to invest in growing new businesses under the Admiral Pioneer umbrella – notably Veygo (flexible short term car insurance) and Toolbox by Admiral (business insurance for tradespeople) both of which are making very nice progress. Hopefully exciting times ahead for those businesses.
Investments and investment income
Another feature of 2022 was volatility in financial markets, particularly in terms of higher interest rates (three year UK gilt up from 0.7% to 3.6%) and wider spreads on corporate bonds (UK investment grade spreads up ~80bps). Admiral's investment strategy (unchanged for a while) is reasonably cautious and is focussed on matching asset and liability duration (average life of the assets and claims liabilities is around three years), currency and to some extent inflation. The portfolio is of high credit quality, and we hold very prudent levels of liquid assets. There are appropriate ESG targets in place and we've committed to a net zero portfolio by 2040 at the latest.
Notwithstanding the above, the portfolio is subject to valuation changes from spreads and rate movements (the latter is well matched to changes in the values of claims liabilities). Movements in unrealised losses in 2022 were £256m, though values recovered notably in the last months of the year and into early 2023. As rates moved up in the year and maturing assets and cash inflows were invested, the level of return increased (average return in 2022 of 1.6% vs 1.1% in 2021). If rates remain higher than their long-term lows for the foreseeable future then we will earn higher investment income (for context, each additional 100bps of return = ~£35m in additional investment income).
IFRS17
Big change is coming from 2023 with the new IFRS17 insurance accounting standard finally coming into effect. Our team has worked extremely hard to get us ready for the new standard which will introduce big differences in accounting and presentation.
We held a market briefing in November 2022 on the key impacts for Admiral (slides and webcast on our corporate website and worth a look) and to reiterate those key messages are:
No change on Admiral's strategy or the ultimate profitability of our businesses
No change on dividend policy or expectations
Admiral will use the simplified approach, though there may be some impacts on timing of profit recognition
We will continue to be very prudent in claims reserving
It'll be interesting to see if the adoption of the standard leads to improved transparency and comparability. I'd like to close by very sincerely thanking the IFRS17 project team for their work over the past few years – nice work team!
Geraint Jones
Group Chief Financial Officer
7 March 2023