Electroneum (ETN) can now be traded against Euros (EUR) for the first time after the launch of the first ETN-Euro pairing on a top global cryptocurrency exchange.
The mobile-based altcoin began trading against EUR on Liquid at 07:00 (GMT) on 5th November.
EUR is the third Electroneum pairing on the exchange, after Bitcoin (BTC) and Ethereum (ETH).
Electroneum CEO and Founder Richard Ells says: "I'm delighted that ETN is now available to trade in Euros. This is a significant step forward for us – one that will make it easier for vendors and cryptocurrency enthusiasts across the world to trade our currency.
In particular, our first Euro pairing is hugely important for those vendors who integrate our ETN Instant Payment API as it will give them the option of converting the ETN they receive from their customers into Euros. This will be crucial in the early stages of the ETN ecosystems we are setting up across the world as it will encourage more suppliers to accept ETN as a form of payment.

I want to thank the team at Liquid for making this possible. They're a great exchange, one that really cares about making it easy for newcomers to start trading and about creating multiple options for more advanced traders, as well as being an excellent corporate gateway for institutions who are interested in crypto. They've been a long-term supporter of ETN – support which has been reinforced by the fact we're only the 12th coin on their exchange to be granted a fiat pairing – and hopefully this latest announcement is going to be one of many joint milestones we'll celebrate together."
ETN is the latest cryptocurrency to be paired against EUR on Liquid, a regulated, compliant and audited exchange launched in September by global fintech company Quoine.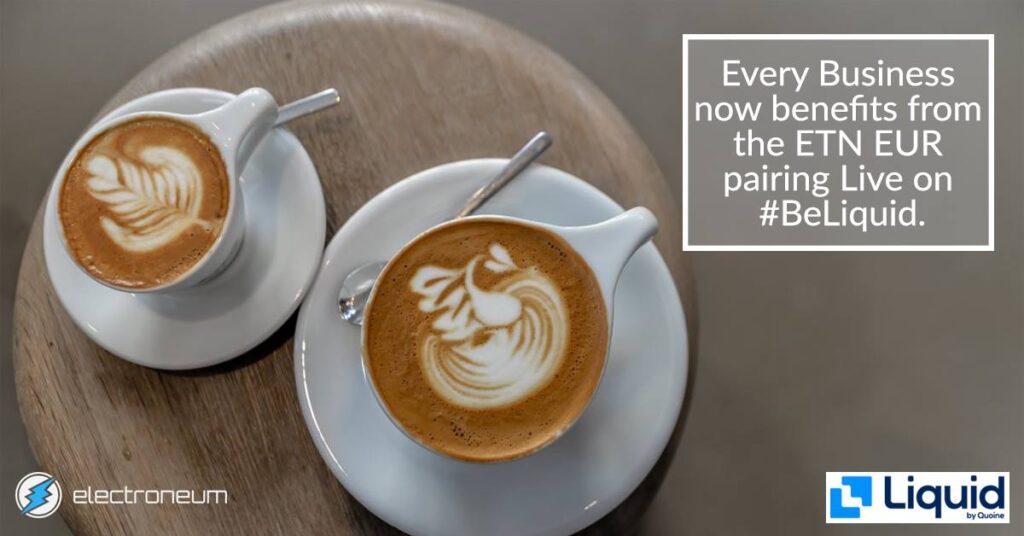 Liquid Head of Global Business Development and Sales Seth Melamed says: "We have had a longstanding, productive relationship with the Electroneum team and so it was only fitting that they would be one of the first new assets for which we would implement EUR trading. We share a vision with Electroneum for making crypto fair for all. Liquid is continuously at the forefront of innovation and we are committed to promoting adoption and access to Blockchain-based Financial Services. We wholeheartedly welcome the ETN community to Liquid."

Richard Ells continues: "Our first fiat trade is another landmark moment in a huge few weeks for Electroneum. September and October have seen us develop the first ever cryptocurrency instant payment API and become the world's first KYC-compliant cryptocurrency.
"This is just the beginning and more massive deals will be announced very soon!"
For more information about Electroneum, visit the company profile page: Electroneum ltd
For more information about Liquid, visit: liquid.com
Join us on our new LinkedIn page
You can read the full ETN archive by clicking the EPIC code.