Electroneum (ETN) Blockchain Developer and Community Manager Andre Patta has today released non-official ETN GUI wallet source code. Andre has said it is his little Xmas gift for the ETN community with compliled packages for Windows and Linux to follow.
Andre said, "All the work was done this weekend. Compiled packages (for Windows and Linux) should be available soon. In the meantime you'll need to compile your own executable from the source code. Also worth mention that this a side project and it's not officially related to Electroneum.

Keep in mind that's a Monero GUI fork and adapted to work with ETN (please don't get mad on me @fluffypony, main credits still belongs to XMR team!)."
Notes on the project: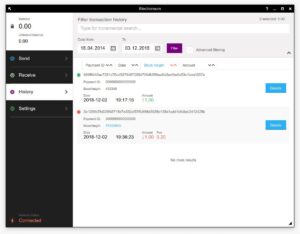 This is the GUI for the core Electroneum implementation. It is open source and completely free to use without restrictions, except for those specified in the license agreement below. There are no restrictions on anyone creating an alternative implementation of Electroneum that uses the protocol and network in a compatible manner.
As with many development projects, the repository on Github is considered to be the "staging" area for the latest changes. Before changes are merged into that branch on the main repository, they are tested by individual developers in their own branches, submitted as a pull request, and then subsequently tested by contributors who focus on testing and code reviews. That having been said, the repository should be carefully considered before using it in a production environment, unless there is a patch in the repository for a particular show-stopping issue you are experiencing. It is generally a better idea to use a tagged release for stability.
Links to the GUI source code can be found on our Electroneum profile page (under resources).
Join us on our new LinkedIn page
You can read the full Electroneum Wallet ETN archive by clicking the EPIC code.