Sativa Group Plc [NEX: SATI], the UK's leading quoted CBD Wellness and medicinal cannabis Group, recently completed the initial phase of its Goodbody CBD Wellness store chain, choosing Clifton, Bristol as the third and final location for proof-of-concept, alongside Bath and Cirencester. The Group is now actively seeking franchisees to participate in its comprehensive, full-support national franchise plan.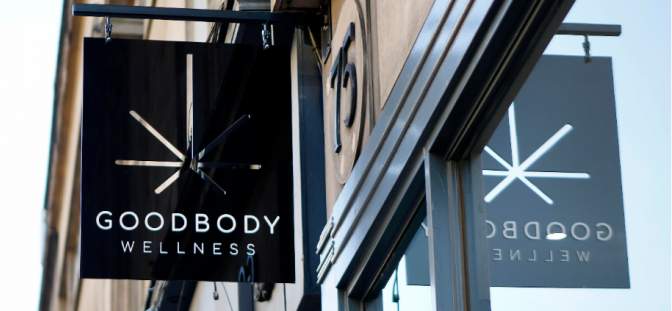 The 500 sq ft (45.5 sq. m.) Queens Road store joins Space NK, Waitrose, The White Stuff, Café Nero, Vodafone and Wagamama in the Clifton Triangle, a thriving and vibrant primary retail destination. The store stocks a range of more than 50 CBD products and each store has a tasting bar for customers to sample CBD products and enjoy a cup of high quality CBD infused coffee.
The consumer experience consists of focused knowledge and support from highly trained staff who are able to advise customers on the range of CBD products available and the best way to use and apply those products. CBD is believed to boost the body's endo-cannabinoid system which works to restore homeostasis and balance. CBD enriched products available include skincare, tinctures, balms, bath bombs, vape oils, body oils and capsules.
Chris Jones, Managing Director of Goodbody Wellness, said:
"It was a great launch weekend with customer feedback echoing the sentiments given about the first two stores. The customers really appreciate a prestige high-street brand which they can trust. It's all about traceability, product testing, and balance.

"A welcome surprise was that the store opened for business a day early. We hadn't even switched on the digital display boards and customers were knocking on the door. That gave the team an early chance to put their extensive training in to practice. Our fellow traders in the Clifton Triangle have been highly complimentary about our store design and quality of product and Goodbody is already viewed as a further boost to local high-street retail."
Recently-appointed Sativa Group CEO Henry Lees-Buckley said:
"Goodbody has achieved this significant milestone in just eight months. It's an important third CBD trading business to the Group alongside George Botanicals and our direct CBD marketing channel, and a fellow Group subsidiary to PhytoVista Laboratories.

"We expect to soon add the licenced growing of medicinal cannabis, once necessary approvals are in place, for research and development purposes through our collaboration agreement with Kings College London, which is looking at the potential benefits that medicinal cannabis might have on respiratory diseases."
The Company has a full-scale replica Goodbody store at its Somerset headquarters alongside its bespoke training facility. All three trading stores are within an hour's drive, allowing potential franchisees to absorb the concept and then witness it trading first-hand.
Goodbody Managing Director Chris Jones is a highly experienced international retail expert, as detailed in his appointment release of 15th January 2019.