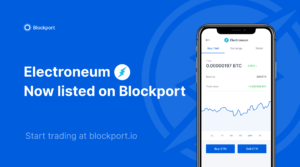 To end off 2018, Blockport hosted a poll in which the community could vote for which cryptocurrency they'd like to see listed next on its trading platform.
Electroneum (ETN) came out on top, and their token is officially live and available for trading on the Blockport platform! European crypto traders, investors, and enthusiasts are now able to purchase and trade ETN through our trading portal.
Through their app-based, mobile-mining system, the ETN team is on a mission to help over 350 million smartphone users in the developing world enter the digital market for the first time.
About Blockport
Blockport is an easy-to-use cryptocurrency exchange that bridges the traditional world of finance with the new digital economy of cryptocurrency.
The Blockport platform allows you to buy, sell and exchange leading cryptocurrencies directly with Euro. If you haven't signed up for an account yet, you can head over to blockport.io
The Blockport's native token (BPT) provides users with access to discounted trading fees, as well as 'social trading' features on the platform. BPT has recently become available on the Blockport platform itself.
Join us on our new LinkedIn page
You can read the full Electroneum ETN archive by clicking the EPIC code.