Bitcoin Weekly Update
At 6:00 GMT, Bitcoin is trading at $6366.48/coin.
Bitcoin posted a weekly loss of 0.4% and closed previous week at $6326.20/coin on Friday, after the US Securities and Exchange Commission charged Zachary Coburn, the founder of EtherDelta, for operating an unregistered securities exchange.
Bitcoin started the last week with an upside bias, after eToro announced the launch of its own cryptocurrency wallet, Bespoke, with initial support for Bitcoin and three Altcoins. However, the cryptocurrency gave up gains, following reports that major cryptocurrency exchanges, including Binance and Bittrex, discontinued their services in Iran, following tougher US economic sanctions.
Also, Bitcoin cash surged 17.3% last week, after cryptocurrency exchanges, Coinbase and Binance, separately announced that their platforms would support Bitcoin Cash hard fork with effect from 15 November 2018.
At present, the total market value of all cryptocurrencies is $212.8 billion, with Bitcoin accounting for $111.6 billion.
Key News Last Week
deVere Group has teamed up with Dubai's Dalma Capital Management for the launch of an actively managed crypto fund, deVere Digital Asset Funds, to provide diversified exposure to digital coins with less volatility. (04 November 2018)
Cryptocurrency exchange, LXDX, is likely to issue stock through a security token offering, permitting the purchase of cryptocurrency tokens which would represent ownership in the exchange. (05 November 2018)
Deloitte announced a partnership agreement with identity management company, Attest, to form a blockchain-based digital identity system. (06 November 2018)
Swiss blockchain-based exchange, Lykke, has entered into a partnership deal with a Dutch operator, Nxchange, to issue and trade securities and set up a blockchain-based securities trading platform. (06 November 2018)
Tokyo-based Hinomaru Limousine announced an agreement with Bitpoint to accept cryptocurrency payments for its airport taxi services. (07 November 2018)
Cryptocurrency exchange, Gate.io, has removed its web analytics tool, StatCounter, from its website amid a breach report from cybersecurity firm, ESET. (07 November 2018)
Poloniex announced that it is likely to become the first exchange to provide trading for the pending Bitcoin Cash hard fork. (08 November 2018)
Smartlands has teamed up with Lithuania's Vilnius Blockchain Centre to promote its first Security Token Offering. (08 November 2018)
Cryptocurrency exchange, Trade.io, announced the acquisition of Primus Capital Markets for trading foreign currency using digital assets as base currency under a new name, TIO Markets. (09 November 2018)
Coinbase announced that it has listed Basic Attention Token on its trading platform. (09 November 2018)
VersaBank announced that it now offers digital safety deposit box to cryptocurrency exchanges and crypto investment funds to store digital assets. (09 November 2018)
Cryptocurrency backed lending provider, Cred, revealed that it is adding Ripple as a collateral option, allowing customers to get loans on their Ripple holdings. (09 November 2018)
Cryptocurrency exchange, Binance, announced that it has launched Binance Research, an investigative subproject relaying in-depth and objective information on upcoming tokens. (10 November 2018)
Great Lakes Science Center, a large museum and educational facility in the US, unveiled its plans to accept Bitcoin as a payment method with effect from 13 November 2018. (12 November 2018)
Bitcoin Technical Outlook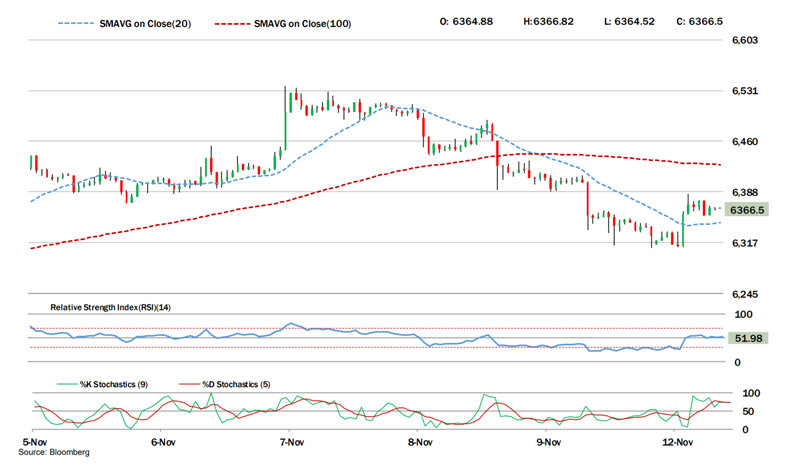 Bitcoin likely to witness recovery this week
At 6:00 GMT, Bitcoin is trading at $6366.48/coin.
In the last week, Bitcoin fell for the second straight week to close at $6326.20 on Friday, after making a low at $6309.73.
As of now, the weekly MACD and stochastic oscillators are pointing towards the north, hinting at likely positive momentum in the coming week. Likewise, the daily MACD and RSI oscillators are trading with a slightly positive bias, further confirming the above stance.
Important resistance is located at the 20day SMA (currently placed at $6456/60), followed by the daily upper Bollinger band (currently trading at $6590) and $6655 levels. A break above the latter might lead to bullishness in the cryptocurrency.
On the other hand, key support is aligned at the $6248/45 level, followed by the $6112/10 and crucial $6000 levels. A breach below the latter might trigger further bearish momentum in the digital currency.
To trade BTC we recommend using Binance
Disclaimer
Any research has been produced by an independent third party provider.
Any report has been prepared using information available from public sources, which are believed to be reliable as at the date of this report. However, Guardian Stockbrokers, its employees and its independent third party provider make no representation as to the accuracy or completeness of this report. This report should therefore not be relied on as accurate or complete. The facts and opinions on this report are subject to change without notice. Guardian Stockbrokers, its employees and its independent third party provider have no obligation to modify or update this report in the event that any information on this report becomes inaccurate.
Any report is prepared for informational purpose only, with no recommendation or solicitation to buy or to sell. The background of any individual or other investor has not been considered in providing this report. Individuals and other investors should seek independent financial advice which considers their specific risks, objectives and specific constraints, and make their own informed decisions. Individuals and other investors should note that investing in shares carries a degree of risk and the value of investments can go up or down. Past performance is not a reliable indicator of future performance. Investments should be made with regard to an investor's total portfolio. Guardian Stockbrokers, its independent third party provider and its employees make no representation or guarantee with regard to any investment noted on this report, and shall therefore not be liable with regard to any loss.
Join us on our new LinkedIn page
You can read the full BITCOIN BTC archive by clicking the EPIC code.