hVIVO plc (formerly Open Orphan plc) is a rapidly growing specialist contract research organisation (CRO) and the world leader in testing infectious and respiratory disease vaccines and antivirals using human challenge clinical trials, providing end-to-end early clinical development services for its broad and long-standing client base of biopharma companies.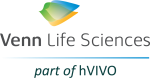 Venn Life Sciences is an Integrated Drug Development partner offering a unique combination of drug development consultancy, clinical trial design and execution.

FluCamp is all about improving the health of the population, through increasing understanding around common viral illnesses.

Imutex Limited, formed in 2016, is a joint venture between PepTcell and hVIVO, to accelerate the development of a Broad-Spectrum 'Universal' Influenza Vaccine, FLU-v, and a Mosquito-Borne Diseases Vaccine, AGS-v.