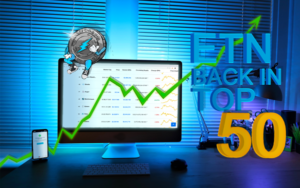 Electroneum (ETN), the world's first true mobile cryptocurrency, has seen its market cap pass the $200M mark. This latest milestone comes on the back of a fantastic 10-day period where ETN has seen a significant rally, it's price has increased 5 times in value. This phenomenal growth is off the back of launching its cryptocurrency Instant Payment API Beta test.
Electroneum hit a Market Cap high of $218.3m. Over a 10-day period, Electroneum has seen its price increase by 432% (from $0.005133 at 06:39 on 18th September to $0.02731 at 02.39 on 28th September, according to coinmarketcap.com).
Market Momentum is also up significantly, as volume over the last 24 hours hit $12.1m (up from a recent average of $.25m)
Electroneum's CEO and Founder Richard Ells attributes the market interest to "The world waking up to ETN," he says. "We've proved that we're more than a token – we're a cryptocurrency and also a massively successful fintech business. News that our Instant Payment API has entered beta-testing has excited the market – and once people realise how easy it is to integrate and use, more people will join them"

Ells Continues "The world wants cyrptocurrencies and blockchain projects with viable real-world products. Just 40 of the top 100 cryptocurrencies have a real working product or provide any real value to the public according to a report from Invest in Blockchain. We do – one we know will be a gamechanger!"
Electroneum's Instant Payment API allows users to pay for items in shops or stores in ETN instantly from a mobile phone, tablet or computer. The software entered beta-testing on 12th September, and vendors from across the world have rushed to integrate it into their shops and stores.
The excitement around their Instant Payment technology is growing rapidly as more and more large brands have started to integrate. "On Tuesday we announced that BluBlocker Sunglasses UK – the sunglasses worn by Zach Galifianakis' character in 'The Hangover' – has integrated our Instant Payment system into their store, so you can now buy them using ETN. They're a huge brand and we're really excited they've come on board – hopefully they'll be the first of many!"
Enthusiasm around Electroneum is fixed to continue, as Q4 of this year is set to be packed full of awesome launches, according to Ells.
'The most exciting thing is, this is only the start, we have so much more to come, the final quarter of the year is going to packed full of massive industry defining launches. We will be hard launching KYC, launching our iOS app and cloud mining, and most importantly we will be launching with our first local market and our first mobile network'.
There really are some very exciting times ahead for Electroneum, who are proving themselves to be the real rising star of crypto.
Join us on our new LinkedIn page
You can read the full Electroneum ETN archive by clicking the EPIC code.