Fidelity Emerging Markets Limited (LON:FEML) is an investment trust that aims to achieve long-term capital growth from an actively managed portfolio made up primarily of securities and financial instruments providing exposure to emerging markets companies, both listed and unlisted.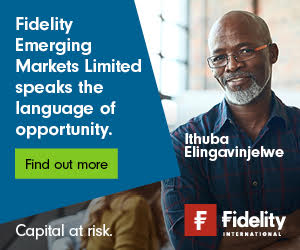 Investment Objective
To achieve long term growth by primarily investing in companies whose head office, listing, assets, operations, income, or revenues are predominantly in or derived from emerging markets. The Company is also able to use derivatives for efficient portfolio management, to gain additional market exposure and to seek a positive return from falling asset prices.
Approach and style
Fidelity Emerging Markets Limited adopts a truly active approach; using broad investment powers the Company seeks businesses across the full market cap spectrum to best exploit the large investable universe. Idea generation draws on Fidelity's emerging markets investment platform, adopting a rigorous approach which allows for rapid information transmission through team and multiple layers of due diligence on each stock. 
The portfolio is run in an unconstrained manner and reflects the very best ideas from across the emerging markets. Stock selection is bottom-up and driven by fundamentals and the Portfolio Manager takes a consistent approach focusing on quality, consistency of returns and a reasonable price. See latest factsheet for more information.