Anexo Group is a specialist integrated credit hire and legal services group focused on providing replacement vehicles and associated legal services to impecunious customers* who have been involved in a non-fault accident.
Anexo's clients typically do not have options to access a replacement vehicle which allows the Group to charge credit hire rather than spot hire rates, recovering these charges from the at-fault insurer at no upfront cost to the client.
The Group has developed an integrated business model with a dedicated field sales team generating almost all of the Group's Road Traffic Accident customers from a network of approximately 1,150 active introducers. The Group provides an integrated end to end service to the customer including the provision of a credit hire vehicle, upfront settlement of repair and recovery charges through to the management and recovery of costs and the processing of any associated personal injury claim.
The Group currently comprises four business units under the two main reporting divisions – Credit Hire and Legal Services.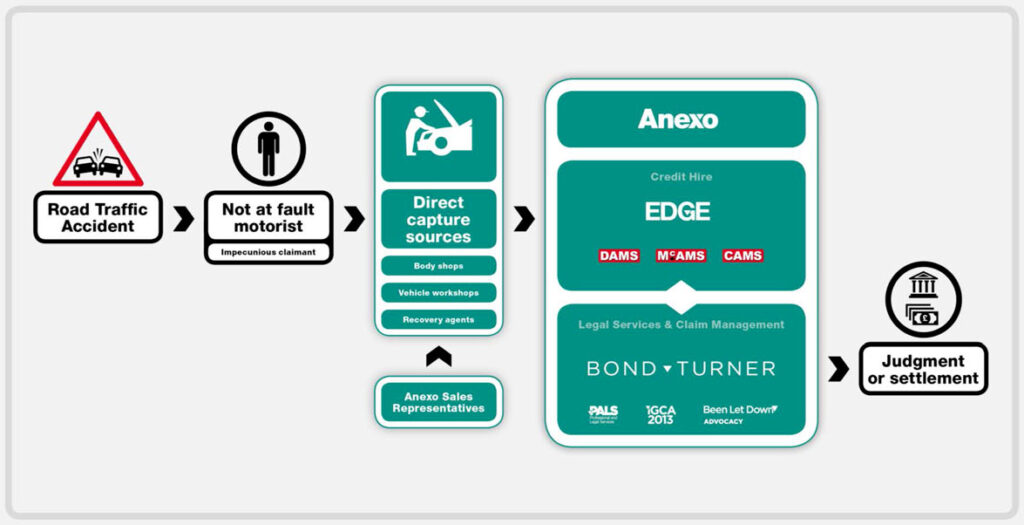 *Impecunious – claimants that do not have immediate access to funds for replacement vehicle