European Metals Holdings Ltd (LON:EMH) Managing Director Keith Coughlan talks to DirectorsTalk about the release of some results from its metallurgical work. Keith explains what these results mean for the company, the process involved, further work of this nature and provides an understanding around the recent share price drop.
European Metals Holdings, through its wholly owned Subsidiary, Geomet s.r.o., controls the mineral exploration licenses awarded by the Czech State over the Cinovec Lithium/Tin Project. Cinovec hosts a globally significant hard rock lithium deposit with a total Indicated Mineral Resource of 348Mt @ 0.45% Li2O and 0.04% Sn and an Inferred Mineral Resource of 309Mt @ 0.39% Li2O and 0.04% Sn containing a combined 7.0 million tonnes Lithium Carbonate Equivalent and 263kt of tin. An initial Probable Ore Reserve of 34.5Mt @ 0.65% Li2O and 0.09% Sn has been declared to cover the first 20 years mining at an output of 20,800tpa of lithium carbonate.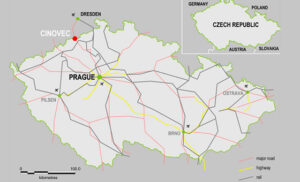 This makes Cinovec the largest lithium deposit in Europe, the fourth largest non-brine deposit in the world and a globally significant tin resource.
The deposit has previously had over 400,000 tonnes of ore mined as a trial sub-level open stope underground mining operation.
EMH has completed a Preliminary Feasibility Study, conducted by specialist independent consultants, which indicated a return post tax NPV of USD540m and an IRR of 21%. It confirmed the deposit is be amenable to bulk underground mining. Metallurgical test work has produced both battery grade lithium carbonate and high-grade tin concentrate at excellent recoveries. Cinovec is centrally located for European end-users and is well serviced by infrastructure, with a sealed road adjacent to the deposit, rail lines located 5 km north and 8 km south of the deposit and an active 22 kV transmission line running to the historic mine. As the deposit lies in an active mining region, it has strong community support.
The economic viability of Cinovec has been enhanced by the recent strong increase in demand for lithium globally, and within Europe specifically.