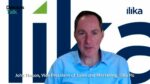 Ilika Roadmap with VP of Sales and Marketing John Tinson (Interview)
Ilika plc (LON:IKA) VP of Sales and Marketing John Tinson joins DirectorsTalk Interviews to discuss the company roadmap. John chats about a discussion he hosted on the role of the Government in battery innovation, Ilika's view on international versus local supply chains, the effect on plans, electrification and its place on the roadmap, the affect the latest Faraday led consortium to develop Solid State Batteries will have, whats next for the company and where it is on the company roadmap.
Ilika is a pioneer in a ground-breaking solid state battery technology able to meet the specific demands of a wide range of applications in MedTech, Industrial IoT, Electric Vehicles and Consumer Electronics. 
Copy and paste this URL into your WordPress site to embed
Copy and paste this code into your site to embed