GBP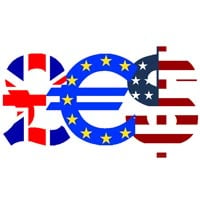 The pound benefited significantly last week, as despite a deal having been reached in Greece, huge levels of remaining uncertainty spooked investors into looking for safer harbors for their cash – one of which ended up being the pound. There were plenty of headlines last week surrounding rate hikes, as Carney spurred flow into bets that the UK could raise rates as early as this year which for some time had been priced out of the market. The US are still expected to be the first to raise, this September, but much more speculation over sharp rises in UK inflation will add more fuel to the UK rate hike fire. There's hardly any data from the UK this week – Retail Sales on Thursday could provoke some interest but by far the most important is Wednesday's release of the BoE minutes, which will be poured over by traders looking for clues as to rate hike timings. It's also the last time the minutes will be released by themselves – as of next month we'll see that start of "Super Thursdays" where the minutes and voting will be released immediately following the actual rate announcement on the first Thursday of the month.

USD
The dollar is doing well as signs continue to mount that a rate hike is imminent, and with a Grexit at least delayed for some time focus will be on monetary policy divergence – and the Fed are still widely viewed as the most likely to be first mover. There's not a lot of data this week, and what little there is, is fairly second rate as far as relevance to monetary policy goes. It's made up for next week with a whole raft of important releases, including the FOMC Rate Announcement, where although it's still too early to expect a rate hike, the accompanying statement will almost certainly cause the market to fly around a fair bit.

EUR
It's a bit of a stretch to call what's going on in Greece a 'deal', and as expected it's really just more can-kicking, albeit a lot further down the road than previous stays of execution. Germany have completely ruled out any haircuts on Greek debt, and all Greece have done is secured further loans to repay interest on already affordable levels of debt – so really all that's going to happen is that they'll end up crashing out of the Eurozone owing more money than they do now, in a few years' time. Bank have reopened in Greece for the first time in three weeks but cash withdrawals, payments to foreign companies and other more broad capital restrictions remain in place. The institutional market have all piled back in again in unison expecting a weaker single currency, targeting the 1.05 area against the dollar in the short term.
UK HEADLINES
Telegraph – Commodities crash could turn Australia into the new Greece.
Independent – FCA's Wheatley forced out by Chancellor.
FT – UK dividends hit post-crisis high.
Pound Sterling, Euro Currency, US Dollar exchange rate commentary is provided by Argentex (Ag-Fx.com)