GBP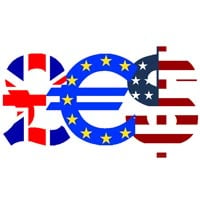 UK Retail Sales jumped 1.2%, the biggest monthly increase of 2016 and the second largest in 12 months. Sterling's gain on the back of the news surprised in its magnitude initially, however it lends weight to the Bank of England's long-held stance that the current lowly inflation levels are not a longer term concern. While UK headline inflation may have slipped into negative territory on Tuesday, something Carney and co. have warned could happen for a number of months now, clearly people are still spending in the shops. There is no data of note from the UK today but Carney will be taking part at the ECB forum on central banking in Portugal. With the topic up for discussion "Inflation and Unemployment in Europe" there is sure to be some sound bites and snippets to keep the market active throughout the afternoon and into the long weekend.

USD
The Philly Fed manufacturing index and existing Home Sales continued the United States' period of largely disappointing economic data and allowed both the pound and euro to maintain their perceived high levels against the dollar. Longer term forecasts continue to point towards a stronger US currency, largely as a result of the expectation that the Federal Reserve will hike rates at some point this year. However, while commentators are happy to pin their views on a particularly month – with September currently the in-vogue opinion – traders are less certain, with the market suggesting that it is still not a guarantee that the first hike will happen within 2015.

EUR
Europe's monthly raft of Purchasing Manager's Indices were released yesterday morning. The data from France and the euro-wide reading were largely mixed, but both the German Manufacturing and Services figures missed expectations. The Eurozone Current Account and Consumer Confidence numbers, while of lesser importance, also added to the negative theme for the single currency. A couple of items released from Germany this morning – the Business Climate survey most likely to impact the market afternoon.
UK HEADLINES
FT- Cameron warns of long path to EU reform.
FT- Global stocks at record high.
Times- House prices increases as owners stay put.
On this day 1840, Britain ended the practice of sending convicts to the penal colony of Australia, Laurence Olivier was born in 1907 and Peter Sutcliffe, aka the Yorkshire Ripper was sentenced to life imprisonment after the judge described him as an 'unusually dangerous man'.
Pound Sterling, Euro Currency, US Dollar exchange rate commentary is provided by Argentex (Ag-Fx.com)
Join us on our new LinkedIn page
You can read the full EUR GBP USD archive by clicking the EPIC code.