Surface Transforms plc (LON:SCE) recently provided a trading update to the market in which oem six was still undisclosed:
Update: DirectorsTalk caught up with SCE Chairman David Bundred to discuss this and more, in this exclusive interview.
Automotive: Including the new OEM customer described in the Company's announcement on 2 February 2017, (now described as British OEM Six) the Company is in detailed discussions with six mainstream automotive manufacturers. Overall progress is good but the rate of development between OEM's is varied.
British OEM Six: The Company was extremely pleased to announce on 2 February 2017 their first nomination as a tier 2 supplier on a prestigious British OEM sports car. The Company has been working with this customer for about a year but momentum has accelerated more recently. As announced previously, the limited edition car is expected to be produced over the period from the start of 2019 to mid 2020. Including prototype and production revenues the Company expects revenues of approximately £1m.
But then 2 weeks later the company posted on their website an article about the AM-RB 001, in which it said:
'With a power-to-weight ratio of 1:1 – that's to say one bhp for every kilogram of kerbweight – the AM-RB 001 requires a braking system that's more than the equal of its powertrain. Step forward Alcon and Surface Transforms, who together are responsible for supplying the lightweight, high performance brake calipers and carbon discs required to deliver the stopping power.'
Earlier today Hardman & Co tweeted "Surface Transforms is secretive re its potential OEM clients. However OEM 6 reveals itself to be Aston Martin".  This information can also be found on the Aston Martin website.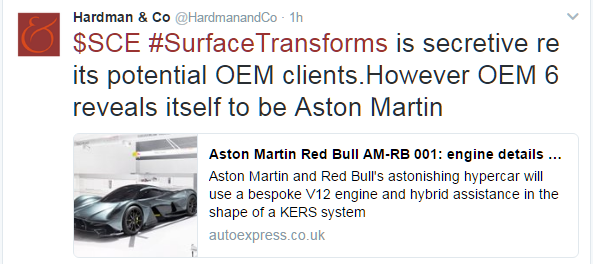 The Aston Martin Red Bull AM-RB 001 sold at an estimated £2million each will begin deliveries in 2019.
Other partners announced elsewhere were: Multimatic, for constructing the AM-RB 001's carbon fibre MonoCell; Alcon and Surface Transforms, who supply the brakes and carbon discs; Bosch, entrusted with supplying the ECU, traction control and ESP units; and Wipac, which will fit the car with full LED head and taillights.
When talking about technical partners supporting the AM-RB 001 project, Adrian Newey, Red Bull Racing's Chief Technical Officer said "Much like Formula One, designing, engineering and building a car like the AM-RB 001 is a massive team effort. To achieve great things you need to surround yourself with the best people."