GBP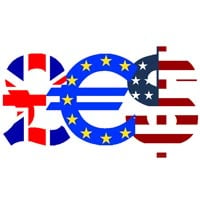 House prices showed a surprising drop yesterday according to the Nationwide, bucking the trend of the last couple of months and significantly missing most of the polled economists' expectations. Meanwhile, Construction PMI came in very impressively, continuing the rebound from May's surprising slump and accelerating on last month's above-expectation result. Services caps off the series of PMI releases and as always, being the U.Ks largest sector by a long shot, has the potential to cause the most movement on the pound. sterling seems to be stuck in an area of indecision, nicely demonstrated by the fact Morgan Stanley have gone long targeting 1.6000 while Citibank remain short looking for 1.5350. GBPEUR remains in stasis while waiting for further developments this weekend.

USD
There could be some interesting volatility today – not only will the market be thinner due to Independence Day, but it's Friday, when traders traditionally close positions ahead of the weekend, and this weekend especially holds particular significance due to the referendum on Greece. Non-Farm Payrolls came in ever so slightly worse than expected at 223k vs expectations of 231k. Average Hourly earnings was given as a reason by many as to why the dollar performed so well at the start of last month, however it only beat expectations by 0.1%, and yesterday it missed them by 0.2%, and more importantly yesterday last month's number was revised down by 0.1% – despite this the dollar held up fairly well against the majority of its most actively traded counterparts.

EUR
Sunday is D(isaster hopefully) day for Greece, with the referendum on whether to live a lifestyle consistent with having overspent by orders of magnitude beyond what would normally be considered appropriate, or whether to become a third world country. How much of the population are going to get to polling stations on neighbouring islands when they are restricted to €60 of withdrawals a day isn't clear. Either way, it will take a trader with an especially deep rooted psychosis to gamble too much of someone's pension pot on any open positions over the weekend so there will be plenty of volatility as positions are closed throughout today. Banks in Greece are expected to open on Tuesday regardless of the outcome, but without any ECB assistance they will basically all be insolvent anyway.
UK HEADLINES
Telegraph – Greek banks down to €500m in cash reserves as economy crashes.
Independent – House prices in some London suburbs up almost 20% in three months.
FT – Downgrade feared for UK export body.
Pound Sterling, Euro Currency, US Dollar exchange rate commentary is provided by Argentex (Ag-Fx.com)