GBP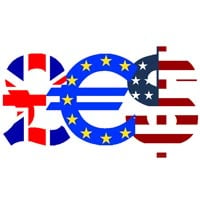 Data-wise, yesterday was the pound sterling day in the limelight. While sentiment was driving the dollar and euro, the UK had some cold hard data to digest in the form of inflation readings. The headline CPI year-on-year release – the key metric that the Bank of England are tasked to keep stable – was exactly as expected, a marginal increase in price, however, it was the typically lesser important figures which disappointed and drove direction in the immediate aftermath. In reality, the Bank of England called exactly this movement on CPI in both of their last two Inflation reports – as far back as February. Today sees the minutes from the last MPC meeting, with particular focus on whether there was much discussion on the likely timeframe for the start of rate hikes in the UK.

USD
This week's focus across the Atlantic was always going to be this evening's FOMC meeting and press conference. Some housing data yesterday provided little influence on the rates yesterday afternoon and in reality the dollar was being sold off from much earlier in the day against most of its major trading counterparts. As this expectations have been pared back on US rate hikes, so too has some of the dollar strength. As it stands, no rate hike is now expected in today's FOMC meeting but Yellen is expected to reconfirm that the first move to "normalization" is coming in the not too distant future, obviously with the normal caveats and data dependency. Also in today's meeting is the committee's quarterly economic projections – key data that will drive the market to price in expectations on the path of interest rates over the coming year.

EUR
German CPI was bang on expectation, while the country's ZEW Economic Sentiment reading disappointed as it dropped to its lowest reading since November last year. The euro-wide version of the same release was similarly disappointing. Ultimately, no one really cared, because Greece continues to dominate thought and conversation. Tspiras was on the offensive again, suggesting that the IMF were "criminally responsible" for the whole situation and the single currency suffered accordingly – after all, with such a stance, it is difficult to imagine how the two sides will come to an agreement prior to the next payment deadline at the end of the month.
UK HEADLINES
Telegraph – Tsipras attacks 'criminal' IMF as Greeks vow to fight.
BBC – UK house prices will slow, says ONS.
FT – Cameron battles for EU reform agenda.
Pound Sterling, Euro Currency, US Dollar exchange rate commentary is provided by Argentex (Ag-Fx.com)
Join us on our new LinkedIn page
You can read the full EUR GBP USD archive by clicking the EPIC code.