GBP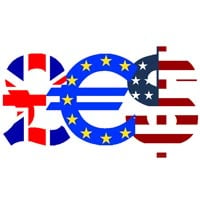 The pound is being dragged around by its trading counterparts. Taking advantage of a sharply weakening euro, it looks set to retest recent highs above 1.42 if it can keep the momentum. In a clear sign that the move is nearly entirely euro-based as opposed to sterling strength, the pound is struggling to maintain its level against the dollar, despite a dovish FOMC minutes release last night. Retail Sales due this morning has historically proven to be market-moving, and it's expected to show a sharp improvement to 0.4% growth, from last month's 0.5% contraction, which is a fairly tall order, leaving room for downside risk. Morgan Stanley are short GBPUSD, and Credit Suisse are long, targeting 1.51 and 1.5825 respectively, while both institutions are long GBPEUR, expecting well above 1.40 in the short term.

USD
The FOMC minutes were taken as dovish on balance. Policy makers noted that they thought it was unlikely that data in June would be sufficient to make the informed decision to raise rates, and there were a couple of mentions of the old favourite 'inclement weather' as the go-to excuse for poor economic growth in some states. Even though nobody really thought that the Fed were likely to tighten monetary policy this soon, the maintenance of the wait-and-see approach halted the dollar's recent recovery and it traded within tight ranges against the majority of its most actively traded counterparts overnight. Goldman Sachs released a report suggesting that oil is more likely to fall again, down as low as $45, given that the recent rebound is likely to restart production in several sites, which will increase supply and so hit the price. If this happens, it could feed through into suppressed inflation and delay monetary policy tightening.

EUR
The single currency continued to weaken yesterday, both on the back of Greek worries, as well as an announcement from the ECB that asset purchases would be stepped up in the coming months in order to accommodate seasonal fluctuations in liquidity. As I type Greek Finance Minister Varoufakis is on TV saying that they will definitely not be able to repay the IMF and that they will prioritise pensions and public sector salaries. The Troika will most likely step in at some point, but what's happening in Greece really is akin to someone taking out payday loans to pay off last month's payday loans. There's a raft of PMI data due out this morning, but it's likely to take a back seat to the broader macroeconomic and monetary policy climate. Draghi is due to speak this evening, at a Forum on 'Inflation and Underemployment in Europe'.
UK HEADLINES
Telegraph – Barclays handed biggest bank fine in UK history over currency rigging.
Independent – Uncertainty takes hold over Cameron's promise of EU referendum.
FT – Airbus chief warns UK over exit from EU.
Pound Sterling, Euro Currency, US Dollar exchange rate commentary is provided by Argentex (Ag-Fx.com)
You can read the full GBPEUR GBPUSD archive by clicking the EPIC code.