GBP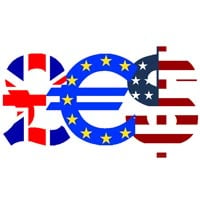 The pound enjoyed a strong performance on Friday, pushing up against most major trading counterparts. The Greek situation continues to drag GBPEUR back and forth, but still very much mid-range for the last few months. However, against the dollar the pound is attempting to push higher again. Importantly, we are back above the 200-day moving average on GBPUSD – a threshold that had been breached last month during the election "relief rally" only to drop back again just as quick. This time, perhaps, the implications for a further, consolidated move to these levels could be in the making. While data was thin on the ground throughout most of last week, there are a number of major releases this week that will have a greater baring on short term movement. The raft of inflation figures are released tomorrow morning while employment data and minutes from the last Bank of England meeting come out on Wednesday.

USD
On average, US figures have been generally better than economists' forecasts of late. Each news item is analysed, essentially to identify its potential impact on the Federal Reserve's interest rate decisions and timescale and if the data continues to outperform the argument for a hike by the end of the year will continue to gather ground. Societe Generale noted this morning that the "market-implied probability" of the first increase to come this September is currently around 50-50 – a poll of commentators would suggest that September is even more likely than this and therefore if the figures continue to support the argument, the dollar could well strengthen again over the coming months. Indeed, Barclays noted "we continue to recommend staying short EUR/USD" however price action has proved repeatedly recently that just because everyone is talking about a stronger dollar, doesn't necessarily meant that it will definitely happen.

EUR
It is difficult to continue to commentate on the whole Greece saga without feeling like we are simply repeating what has been said before, over and over and over. Still, here's the copy-paste: Further talks between Greece and its creditors failed to reach a resolution this weekend. This week could be a "defining week". The focus now moves to the next scheduled meeting (18th June) which could be "make or break". Euro ministers are tiring of Greek "brinkmanship and games". I think we can all accept that Greece is in a dire situation and clearly what they want and what their European counterparts want is separated by a gulf, with neither party willing to concede ground at this stage.
UK HEADLINES
Times – Greek exit from euro looms as debt talks collapse.
Times – House prices soar to record high.
FT – Stocks dump on Greece talks.
Pound Sterling, Euro Currency, US Dollar exchange rate commentary is provided by Argentex (Ag-Fx.com)
Join us on our new LinkedIn page
You can read the full EUR GBP GBPUSD USD archive by clicking the EPIC code.