GBP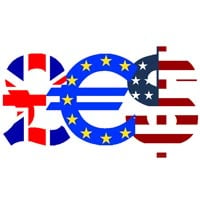 Overnight the British Retail Consortium's monitor of Retail Sales posted a flat year-on-year reading – 0%. Hardly inspiring but at least a bounce back from April's -2.4% result which had been the worst reading since May 2012. Hardly a major market-mover, sterling remains roughly mid-way between the high/low of the month so far, against the dollar, while the euro continues to exceed expectations across the board, keeping GBPEUR under pressure at the bottom end of the recent trading rate.

USD
General sentiment isn't particularly fantastic at the moment, with the Dow Jones now in negative territory for the year. Technical equity traders are starting to prepare for long term shorts in indices as indicator after indicator continues to turn negative. Also risk appetite isn't reacting well to the huge cost cutting exercise about to be undertaken by HSBC. Today and tomorrow sees little by way of data of any impact, but Thursday's Retail Sales could carry more weight. One year inflation expectations according to a New York Fed survey rose to 3%, up from 2.7%, and matching the highest it's been so far this year.

EUR
Data isn't even in the car, let alone back seat at the moment as far as impact on the euro is concerned, which is very strongly focussed on Greece. Having postponed the financial collapse of Europe until the end of the month, the IMF has somehow agreed to let Greece roll up all their payments due this month into one large one at the end – given they couldn't afford the small one last Friday unless a definitive deal is done this really will be D-day. Merkel said that Greece was running out of time, and that they would be supported but only if they implement reforms. Varoufakis said it was time to stop finger-pointing and find an agreement. Basically shut up and show me the money.
UK HEADLINES
Telegraph – World leaders plead with Greece to make bargain as 'time is very short'.
Independent – HSBC to cut 25,000 jobs worldwide, including 8,000 in the UK.
FT – UK airlines to be sued over quality of air.
Pound Sterling, Euro Currency, US Dollar exchange rate commentary is provided by Argentex (Ag-Fx.com)
Join us on our new LinkedIn page
You can read the full EUR GBP GBPEUR USD archive by clicking the EPIC code.