GBP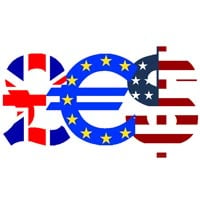 Positioning in sterling has improved, with Credit Suisse Morgan Stanley and Citi all taking bets that the pound will appreciate against the euro GBPEUR, with Morgan Stanley targeting as high as 1.4925. The relatively wide ranges in GBPUSD these past few sessions have knocked out many institutional traders, and there are limit orders to short the pound if it trades back in the 1.55 region. The pound is heading towards testing its highs above 1.42 again, but struggling slightly against the dollar as the greenback starts to take up its mantle as a safe haven currency again, thanks to Greece being in cruise control towards the cliff edge of a Grexit.

USD
The dollar put in a bit of a tear yesterday, and pulled back gradually overnight in a breather as is often seen following such a strong advance. Data from the US was stronger than expected, but the move is more likely due to some safe haven demand as fears intensify that Greece may well be headed for Armageddon. Fed futures remained unchanged – if the move higher in the dollar was due to good economic data rather than structural flow of funds then fed futures would be higher as the market prices in a greater chance of a near-term rate hike. FOMC member Fischer is due to speak this afternoon at Tel Aviv University on the global economic outlook.

EUR
It seems that the situation in Greece is finally having a direct impact on the single currency, with markets coming to the realisation that the issue perhaps isn't going to go away and that burying their heads in the sand isn't going to work. Greek Interior Minister Voutsis told local TV station Mega that Greece will not be making June's payment to the IMF as there is no money to be given. Coupled with ESM head Regling's comments yesterday that a missed payment would reduce the likelihood of a deal and lead to insolvency, it is looking like a real possibility that Greece could be ejected from the euro.
You might also be interested in reading 'Traders love binary options as they are so profitable & easy to trade' by Stratx Markets
UK HEADLINES
Telegraph – Eurozone leaders attempt to quell fears of Grexit panic.
Independent – FCA fines dip despite record Libor and forex penalties.
FT – Cameron plans fast-track bill for EU vote.
Pound Sterling, Euro Currency, US Dollar exchange rate commentary is provided by Argentex (Ag-Fx.com)
Join us on our new LinkedIn page
You can read the full EUR GBP GBPEUR USD archive by clicking the EPIC code.