GBP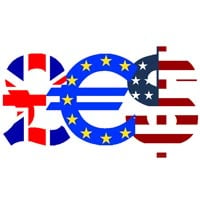 CPI and the Inflation Report, both released tomorrow, will be the most important UK-centric events of the week. We've seen little movement in the pound against the euro, despite the agreement being made that takes a Grexit out of the picture for the time being. Without a Grexit being on the cards, GBPEUR will struggle to make much headway above a.140 against the euro and to make new highs nearer the 1.60 level against the dollar, without monetary policy impetus, and will therefore likely remain within recent ranges until something other than Greece kicks us into new territory.

USD
Greece aside, sentiment globally was lifted by trade balance data from China that showed a boost in exports. Specifically, a 12% year-on-year increase in exports to the US is a clear sign that the strong US recovery is helping stabilise trade in China. There's very little data today, but later in the week we'll have Retail Sales, PPI, Industrial Production, Philly Fed Manufacturing Index and CPI to mull over, but until then the details of the deal reached in Greece will be the main market mover (Although oddly, there's no movement to be seen yet…)

EUR
Former Finance Minister Varoufakis is set to publish an article in this Thursday's Die Zeit, in which he will reveal that it was Germany's plan all along to have negotiations fail and for Greece to be booted from the Eurozone as a show of discipline. He says that Wolfgang Shaeuble told him this was the plan from the very beginning, in an effort to 'put the fear of god' into the French. As I write though, it's flashing over the newswires that a unanimous agreement has been reached, so we'll see what that translates into over the course of the day.
UK HEADLINES
Telegraph – British wage growth steps up a gear.
Independent – Britain losing tourist money to European rivals due to strong pound.
FT – Business fears looming 'Skills emergency'
Pound Sterling, Euro Currency, US Dollar exchange rate commentary is provided by Argentex (Ag-Fx.com)