GBP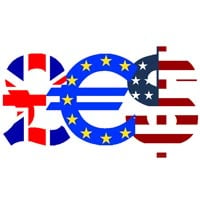 There's been very little data this week from the UK. The Current Account deficit was slightly worse than expected, while GDP was a nice upside surprise. Hidden beneath the headline good news of growth rates was the same old issue of stalling productivity, which is as a direct result of an expanding population willing to take on jobs for lower remuneration – why would an employer of unskilled labour raise incumbents' wages when they can hire new employees cheaper? It is this very measure of our economy that needs to pick up before the BoE will think about raising rates, but you won't read much about it in the mainstream media as it's a little close to the political kryptonite of racism. Construction PMI data today could shift the GBP slightly, but next week's Services data is far more important. There's also a rate announcement on Thursday from the BoE but even the most hawkish of commentators would struggle to make a coherent argument in support of a GBP hike now.
USD
Disappointing ISM and ADP Employment data overnight kept US equities underperforming their European counterparts, but the USD remained fairly resilient, maintaining levels below 1.08 against the euro. Fed member Lockhart participated in a panel discussion titled "Monetary Policy: Will the Traditional Banking Channels Remain Central to Monetary Policy ", where he stated that the factors he saw as contributing to economic weakness in the US during Q1 were transitory and that Q2 would see a marked improvement. He went further, suggesting the Fed were on course to hike in the June-September period, which is slightly ahead of the current markets' consensus of Q4. Next week is fairly data light, and low liquidity due to the Easter break will see some choppy trading. On tap we have Non-Manufacturing PMI on Monday, JOLTS job openings on Tuesday, and most importantly FOMC Meeting Minutes on Wednesday evening.
EUR
The EUR struggled against the pound (EURGBP) somewhat, but it's not yet given way to let the GBP push up to recent highs. The levels we saw a couple of weeks ago above 1.40 actually represent the halfway point between the 2000 high and the 2009 low, and as such any foray back to those lofty heights will see intense (EUR) buying pressure from both speculators taking profit and corporates covering euro liabilities. Short positions in the EUR are building up, with Credit Suisse, Morgan Stanley, Danske Bank and BNP Paribas all short EURUSD. Bank of America entered a short-euro position yesterday against the pound, and plan on closing at around 1.4285. There's some PMI data, German Factory Orders and Eurozone-wide retail sales next week, but focus will probably remain on anything from Greece.
Currency commentary is provided by Argentex (Ag-Fx.com)