GBP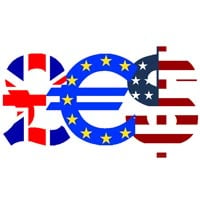 UK retail sales slowed last month according to the Confederation of British Industry, missing forecasts as it dropped from last month's surprising spike higher. It was the only domestic data release yesterday and today is equally barren on that front. However, BofE chief Carney is speaking this afternoon as he takes part in a panel discussion in London. I'll stick my neck out and say that the pound will again lack conviction one way or another and will continue to be in the hands of the wider market sentiment. Next week there is far more to talk about in terms of key data releases and given the relative heights that sterling is enjoying against its major counterparts, the market will look for justification to maintain trading at these levels.
USD
US spending and income figures were relatively positive yesterday, with Personal Spending being the headline-grabber and allowing those most susceptible to confirmation bias to advocate that this is another reason for lift-off on interest rates in September. Unfortunately, it misses the point that Personal income growth slowed, weekly unemployment claims were slightly up and Services Flash PMI unexpectedly fell to the lowest since the start of the year. Consumer sentiment and inflation expectations close the week this afternoon but are unlikely to have a major impact on the rates going into the weekend. Focus remains on Europe and the dollar will be the main counter-currency to euro strength or weakness depending on how events unfold.
EUR
A day in the limelight for the "unnamed euro group official" as various rumours throughout the day threatened to push the single currency one way or another. In reality, the euro was largely unchanged as another crunch day for talks came and went with no resolution. This morning my favour character – Varoufakis – has been on Irish radio suggesting that to cut Greek pensions further would be "absurd" and he says that the Greeks have already bent over backward to accommodate their creditors' "strange demands". Despite assurances from euro group ministers that a deal is close it is quite clear that there is a fair distance to go yet.
UK HEADLINES
City AM- Greece faces bankruptcy risk as talks go to the wire.
Telegraph- Blistering US spending growth puts Fed on track for September rate hike.
Guardian- Tesco sales drop 1.3% but outperform market expectations.
Pound Sterling, Euro Currency, US Dollar exchange rate commentary is provided by Argentex (Ag-Fx.com)