GBP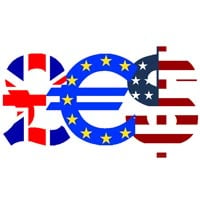 Sterling takes centre stage in terms of data, although it's unlikely to take the reins and be a main driver of market movement. Trade Balance and the MPC Rate Announcement are theoretically important indicators, however neither are likely to stir up much interest, especially as futures currency markets are pricing in a rate hike from the UK in Q1 2016. The British pound failed to make a break above 1.50 again and trades below 1.59, whilst it has made good headway against the euro GBPEUR, trading back above 1.38 – this divergence against the dollar and euro is indicative of the move being dollar-led as opposed to pound-centric. Manufacturing production tomorrow is important, and the NIESR GDP estimate later tomorrow afternoon will be ignored as always. Credit Suisse are still holding their long GBPEUR position, aiming for 1.4255, and against the dollar the market remains short sterling.
EUR
German Factory Orders and Eurozone Retail Sales were terrible yesterday, and it didn't do the euro any favours which slid below 1.08 against the dollar, an important milestone on its way down from failing the important psychological level of 1.10. Most speculators now expect a retest of recent lows, and we are seeing more analysts calling for parity and beyond. Morgan Stanley actually entered a long EURUSD position hoping to see 1.16, but they are getting close to their stop at 1.07 – it looks like Credit Suisse and BNP Paribas' trades targeting 1.073 and 1.04 respectively are more likely to be winners. No more data from the Eurozone now until Wednesday next week, which sees the monthly ECB press conference post-rate announcement, and CPI on Friday.
USD
The FOMC meeting minutes showed a split in opinions on when the first hike should occur. 'Several' members expected a hike in June, whilst 'a couple' preferred to wait until 2016. The ubiquitous excuse of inclement weather made an appearance in part of an explanation of recent sluggish growth figures. The stronger dollar was given as a reason for growth forecasts being revised down, and the mot du jour 'patience' is back, with policymakers saying that the improvement in factors such as unemployment warrants the removal of forward rate guidance but that 'the committee would remain patient in beginning to normalise the stance of monetary policy' whatever that means.
Currency commentary is provided by Argentex (Ag-Fx.com)