So far since fair came to the market in the summer of 2014 we have seen two distinct phases in terms of the share price action at FairFX Group plc LON:FFX. The first was the way that over the first couple of months, where the stock effectively doubled from the initial 43p support zone. This was followed by a slow drift over the post-mortem period.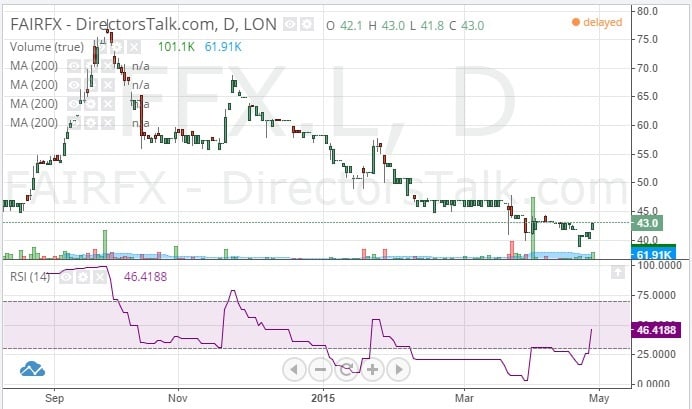 The good news now though is that it would appear that having briefly dipped below the initial 43p support of last August, the shares are back in business in terms of finding support in this area. While it may be wise for cautious traders to wait on an end of day close above the 50 day average at 44.6p, before pressing the buy button, bullish RSI divergence that we have seen since the latter half of March with the breakout back towards the neutral 50 level does suggest that for aggressive traders that we have already have a buying opportunity in place at FairFX Group Plc LON:FFX. The target above the 50 day line is currently seen as being towards former January resistance in the 60p area over the next 1 to 2 months. This would tie in with the top of a trend channel from last summer with its resistance line running just above this zone. Only a weekly close back below 40p would be regarded as significantly delaying the recovery scenario.
You can read the full FFX archive by clicking the EPIC code.