GBP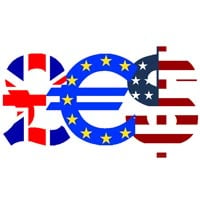 The media is being dominated by the news that FIFA President Step Ladder or whatever his name is, is quitting to spend more time with his family and shredder. Credit Suisse released a very thorough and well-reasoned piece of analysis suggesting that despite current price pressures to the downside, once the effects of lower energy prices and a stronger currency have subsided that inflation will accelerate and become more volatile, in all likelihood overshooting the central bank's 2.0% target in CPI. If this starts to look like the most probable outcome, expect monetary policy to adjust accordingly and the pound to appreciate considerably, however we're talking at least 18 months ahead – Credit Suisse doesn't expect the first rate hike from the BoE until February 2016, and the BoE will want to wait and see the impact of rate hikes before adjusting the pace and scale of further monetary policy tightening.

USD
We've spoken about the levels of Margin debt supporting asset prices which have exceeded the peaks seen immediately prior to the last two major stock market crashes. Another metric which is looking worryingly prescient of an impending implosion is the value of M&A deals, which are spurred on by cheap money and easy liquidity. In May just gone a new record was set of $243 billion, the two prior peaks were Jan 2000 ($213bn) and May 2007 ($226bn). No prizes for stating what happened immediately following these previous two surges. Factory Orders were poor yesterday, but it's not too important a figure – more attention will be paid to today's ADP employment report because it's a precursor to the week's main event that is Non-Farm Payrolls on Friday.

EUR
It's looking like a deal may be imminent between Greece and its creditors, however each side says the ball is in the other's court. Murmurings that proposals were being distributed caused the euro to go on a bit of a tear yesterday, with EURUSD jumping by 2% and experiencing its largest one-day move since 2011. The proportionally shallower move by the pound against the dollar meant that the EURUSD move dragged GBPEUR lower, below 1.38 again. A deal being agreed on by both sides would give the embattled single currency a significant boost and we'd see some sizeable relief rallies, however it won't gain all the strength it lost over the last few months as a good proportion was/is due to QE. Nonetheless a deal before Friday would mean you can say goodbye to 1.40 on GBPEUR for the moment.
UK HEADLINES
Telegraph – IMF: The UK can afford to live with high debt 'forever'.
Independent – Thousands of children in Britain being forced to live on £1 a day.
FT – UK house price growth slows in May.
Pound Sterling, Euro Currency, US Dollar exchange rate commentary is provided by Argentex (Ag-Fx.com)
Join us on our new LinkedIn page
You can read the full EUR EURUSD GBP USD archive by clicking the EPIC code.