GBP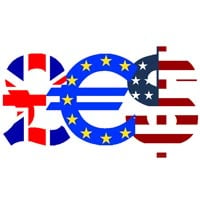 There's very little data from any region today, and the rate announcement from the UK technically takes centre stage, although it's almost a guaranteed certainty that the Monetary Policy Committee will have voted for no change to the base rate, leaving it at 0.5%. The minutes in two weeks' time will be more interesting and give traders more to go on. The media this morning is dominated by analysis of yesterday's budget, with probably the two biggest announcements being a living wage rising to £9 being implemented by 2020, and a cut in corporation tax rates to 18%. There's Trade Balance data tomorrow, but next Tuesday's CPI release will be the headline-grabber, as markets wait to see if we have begun to climb out of price stagnation.

USD
The FOMC meeting minutes were on balance dovish, reducing further the chances of a first rate hike by September. Economic conditions are clearly improving – nobody is in disagreement over that, however many Fed members do not yet believe that deminimus thresholds have yet been reached in order to consider monetary policy tightening, especially with Greece still bubbling away. Yellen is speaking tomorrow but there's no more real data of note as far as the US is concerned, but there's a hell of a lot next week including Retail Sales, PPI, Industrial Production, Philly Fed Manufacturing Index, CPI and Consumer Sentiment.

EUR
Bank of America released an interesting piece of analysis that suggests that despite the current situation in Greece, that the euro is currently fairly priced, given that there are clear signs that the QE programme is having its desired effect. They go on to say, however, that their positioning is still short EURUSD, expecting parity to be reached once monetary policy divergence actually materialises. Greece will submit detailed new proposals for reforms that it hopes will secure it a three-year bailout. Meanwhile capital controls remain in place and banks will remain closed until next week at least. IMF chief Lagarde wins the award for stating the obvious with her helpful comment yesterday of "Greece is in a situation of acute crisis which needs to be addressed promptly".
UK HEADLINES
Telegraph – Average UK house price crashes through the £200,000 mark.
Independent – Osborne's living wage will leave 60,000 people without jobs, says OBR.
FT – German groups UK urge against Brexit.
Pound Sterling, Euro Currency, US Dollar exchange rate commentary is provided by Argentex (Ag-Fx.com)
Join us on our new LinkedIn page
You can read the full EUR EURUSD GBP USD archive by clicking the EPIC code.