GBP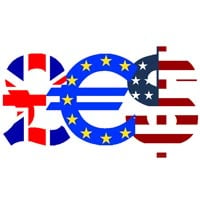 The pound gained against the euro as the single currency lost ground yesterday against most of its major counterparts and the knock-on effect was that the sterling-dollar rate drifted lower as well. With no tier I data at all, the pound was very much in the hands of others as to its overall performance on the day. Comments from the Bank of England's Martin Weale suggested that he will be advocating a rate hike in the UK in the second half of the year. Given his position as one of the noted hawks on the committee this is not entirely surprising, especially given that he voted for a hike already last year, before subsequently falling back in line with his fellow members. Mortgage Approvals at 9:30am will likely come and go with hardly a flutter on the rates so look for further movements on EURUSD to drive direction on both GBPEUR and GBPUSD.

USD
Last week the Federal Reserve labored the point that any rate hikes would be very data dependant. Since then, US figures have disappointed against the consensus forecast in over half of the major releases, with this week's key misses being Durable Goods Orders and Manufacturing PMI. Yet, from the start of this week the US currency has strengthened admirably. The next couple to days offers particularly important data points, in the form of weekly unemployment claims and PCE Price Index tomorrow, after today's GDP reading for Q1. The dollar is still benefiting from the market paring back brief optimism for Greece from Monday night and is likely to remain well bid while negotiations are ongoing in Brussels.

EUR
The Eurozone had a whole raft of purchase managers' indices released yesterday morning and without exception they were better than expected. French Manufacturing was above 50 (the pivot point to indicate expansion or contraction) for the first time in 14 months while their Services figure was the best since August 2011. The German and euro-wide variants also added to the positivity on the data front and as a result… no, actually there was little influence on the single currency from these figures. Yes, everyone still has their eyes on Greece. While it certainly feels like the saga is heading towards a climax this week, it is unlikely to be the end of the story, rather just heading into a new chapter for Greece. Today's German IFO business climate number at 9am is typically a key release but with the Euro-group ministers formally meeting again today, the German figure's influence will be dampened.
UK HEADLINES
FT – Bank hawk says prepare for rate rise.
Times – Bankers face 10-year clawback on bonuses.
Times – Brexit 'is threat to the City, sterling and the economy'
Pound Sterling, Euro Currency, US Dollar exchange rate commentary is provided by Argentex (Ag-Fx.com)
Join us on our new LinkedIn page
You can read the full EURUSD GBPEUR GBPUSD archive by clicking the EPIC code.