GBP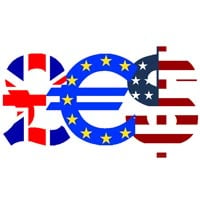 Sterling was relatively unmoved throughout Friday as the market geared up for potential events in Europe over the weekend. Without data, the only potential for movement was Bank of England's Carney speaking but in reality nothing new was provided. There is certainly a lot more on the economic calendar this week than last, but with eyes across the channel it will likely only add to the volatility as opposed to being trend-defining in any way. Personal borrowings and mortgage approvals kick the week off this morning but of greater importance for the UK we have the final GDP reading and Current Account deficit tomorrow, followed by the early-month PMI readings on the final three days of the week.

USD
There was a huge amount of data form the US last week, and the vast majority of it was in line with analysts' expectations. Durable goods was pretty poor, as was Personal Income and Services PMI, but data, even from the US, is being overlooked by traders who are nervously watching the effects of Goldman Sachs assisting Greece in effectuating the massive fraud that allowed them to join the Eurozone in the first place. Data of note this week includes Consumer Confidence tomorrow, Manufacturing PMI on Wednesday and Non-Farm Payrolls on Thursday (released a day early due to Independence Day, the lead up to which incidentally will be the cause of some spectacular volatility – get your limit orders in!).

EUR
Having been on holiday for the last two weeks I was expecting a resolution to have been thrashed out on Greece, but then again I suppose I shouldn't be surprised it's still all about to go nuclear. So having persuaded their creditors to allow them to roll their interest payments due throughout this month into one big one at the end (did they REALLY expect Greece to pay?!), Greece have now said that they are holding a referendum on creditors' proposals on July 5th – having asked for emergency liquidity assistance and a further extension, and both having been refused, Greek banks will remain closed for the whole of this week, as will their stock market in an attempt to stem capital outflows. In the meantime, uncertainty grows and as we know markets hate uncertainty so global sentiment is in the doldrums until this is resolved. When I say 'resolved' bear the following in mind: The Greek national railroad has annual revenues of €100m, running costs of €300m and a wage bill of €400m – it would be cheaper for the government to put every single rail passenger in their own private taxi. The Greek public school system (ranked lowest in Europe) employs four times as many teachers as the highest ranked (Finland). The Retirement age for jobs classified as 'arduous' is 55 for men and 50 for women – this includes such overworked professions as hairdressers, radio announcers, waiters and musicians.
UK HEADLINES
Telegraph – Markets set for turmoil as Greece heads towards financial collapse.
Independent – We should be proud to be European, says Sir Richard Branson.
FT – China to be top overseas investor by 2020.
Pound Sterling, Euro Currency, US Dollar exchange rate commentary is provided by Argentex (Ag-Fx.com)