GBP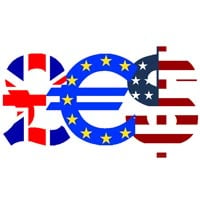 Sterling was the loser on the day though for no real perceptible reasoning. UK mortgage approvals were slightly lower than forecast but still up on the month and while we can look to Greece to justify general market volatility, it goes little distance in explain the pounds fall against both the dollar and the euro, and elsewhere. Technically, sterling has been bubbling around recent and key highs and sometimes, without further impetus to break new ground, currencies will simply retrace back in the direction they came. Danske bank remain long on GBPUSD with a view to ride out this softening while Credit Suisse hold a similar view, targeting 1.4160 on their GBPEUR long. Little data out for the UK again today so expect the recent ranges to hold true again and look for events in europe to dictate movement.

USD
U.S. First quarter GDP was slightly less bad than previously thought but it was hardly an exciting number given that the end of Q2 is already upon us. While hardly market moving yesterday, it is another argument for the bulls at the Fed to use in their justification for a September rate hike. Barclays posted a report yesterday, reiterating their faith in the dollar and stating again their target of sub-parity on EURUSD by "early next year".

EUR
Over a day of relatively subdued action, the euro actually gained ground as news filtered out that Greek creditors are still not happy with their latest proposals – negotiations rumble on. Rather than causing the euro to drop through the floor, the single currency has again seemed to defy gravity. The ECB's ultra-accommodative monetary policy stance – rock bottom interest rates, QE in full flow – means that investors can borrow in the single currency for investment overseas. As glimmers of a deal to be done have teased the market, the euro has weakened at this prospect of the currency being sold to fund these higher yielding returns elsewhere. However, as another round of submissions from Greece have been rejected, those trying to get ahead of the game are forced to buy back their euros and sit tight for a bit longer.
UK HEADLINES
FT- Cameron aims to launch EU renegotiations.
FT- Osborne urged to cut top tax rate to 40p.
Times- Markets shudder as Grexit fears return.
Pound Sterling, Euro Currency, US Dollar exchange rate commentary is provided by Argentex (Ag-Fx.com)
Join us on our new LinkedIn page
You can read the full EURUSD GBPEUR GBPUSD archive by clicking the EPIC code.