GBP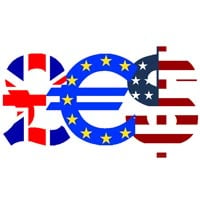 This Fifa bribery (shock horror) debacle going on actually has the potential to impact those of us in the UK who couldn't really care less about football. The fact that Barclays and Standard Chartered have publicly announced that they are investigating whether illegal payments went through their accounts is symptomatic of the huge fear felt by UK institutions of public backlash, which if strong enough, could lead to horrific amounts of red tape and form filling every time you want to make a simple invoice payment. PMI construction today could be market moving, but the same data from the Services sector tomorrow carries more weight.
USD
The dollar hit a 12 ½ year high against the yen yesterday, on the back of monetary policy divergence and an expectation that the FOMC would indeed be raising rates within the next few months, certainly before year-end. US stocks began the month with shallow gains after the stronger than expected growth in the construction and manufacturing sectors. Boston Fed President Eric Rosengren said that he would like to begin raising rates as soon as possible – shame he's not a voting member of the FOMC though. California passed a bill to raise the minimum wage to $11, which may cause some bumps in the employment data road – there's some evidence that rises in a minimum wage don't lead to increased inflation, as opposed to increased unemployment. It's not all rosy in the US – Alaska's government is preparing to shut down unless a budget can be agreed before July, after being hit by the tumbling oil price.
EUR
The Eurozone leads in terms of data today, with Unemployment Change from Spain and Germany due first. Eurozone inflation is also expected to bump higher, in what may be the first sign that recent monetary policy stimulus efforts are having their desired effect. Such a reading (0.2% expected in CPI) would give the single currency a significant boost over sterling, which is languishing in a period of stuttering fundamentals and zero inflation. Greece (yawn) is still dominating the newswires. The Greek government said that if they receive a deal they will make the June 5th repayment to the IMF, even without receiving any further bailout disbursement. So what they are saying is they could make the repayment, but they will only do so if they get what they want – probably not the best tactic. One other option is that the repayment will be made, albeit bundled up with later repayments. Personally I would quite like to see the whole thing blow up just so there's something new to write about other than the Greek government acting like petulant children.
UK HEADLINES
Telegraph – Creditor powers hold emergency summit as Greek endgame looms.
Independent – Malaysia Airlines effectively bankrupt after twin air disasters.
FT – Chancellor to take first RBS sale steps.
Pound Sterling, Euro Currency, US Dollar exchange rate commentary is provided by Argentex (Ag-Fx.com)
Join us on our new LinkedIn page
You can read the full EUR GBP USD archive by clicking the EPIC code.