GBP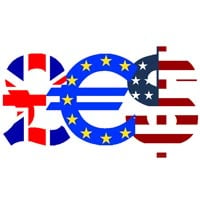 The UK takes centre stage, at least this morning, with the release of the second estimate for GDP growth in the first quarter of this year. Construction Output, ILO Unemployment Rate and Industrial Production during the relevant period have all proven to be strong, pointing to at least a chance that the GDP figure may come in better than the 0.4% growth expected – such a scenario would boost the pound considerably. Technical traders however are seeing more indicators that GBP will weaken, especially against the dollar, and point to weak Trade Balance and Retail Sales figures as fundamental justifications for a bearish outlook.

USD
Equities rebounded strongly following the previous session's aggressive selloff, with the NASDAQ actually closing at record highs. Rumours were circulating that Greece was very close to a deal with creditors which undoubtedly helped boost sentiment, but an unnamed Eurozone official quoted on Reuters saying that rumours of a deal were nonsense had no deleterious effect. The dollar is widely expected to continue its recent strengthening, helped in part by taking out seven-year highs against the Japanese yen. Failure of the euro to consolidate above 1.10 against the dollar for any significant period of time opens up the increased likelihood that we will see below 1.05 again soon.

EUR
There's a lot of brinksmanship going on at the moment, with Greece publicly stating that deals are close, yet they have no money, and Eurozone officials refusing to be led by media reports that deals are imminent. There's no data today, so rumours or comments from Greek and Eurozone officials will dominate the euro's direction, until tomorrow's German Retail Sales, Spanish CPI, Eurozone M3 Money Supply and Private Loans – taken together it's possible the single currency could take notice of any readings wildly out of line with expectations, however until we have a resolution one way or another and we know whether Greece will be bailed out don't expect the market to take too much notice of even the most important of data releases.
UK HEADLINES
Telegraph – Creditors dash Greek optimism as US warns of an 'abyss' of a euro exit.
Independent – High street bounding ahead.
FT – Libor rigging said to have begun in 2006.
Pound Sterling, Euro Currency, US Dollar exchange rate commentary is provided by Argentex (Ag-Fx.com)
Join us on our new LinkedIn page
You can read the full EUR GBP USD archive by clicking the EPIC code.