GBP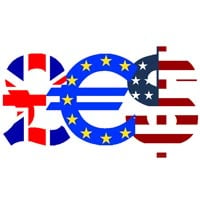 The UK starts the week slowly in terms of scheduled data releases, with nothing of note on the calendar today. However, overnight, the CBI downgraded its UK GDP forecasts for 2015 and 2016, suggesting that while it sees "solid, steady and sustainable" growth ahead, they have suggested that Q1 data will weigh on GDP and have brought this year's expectations down to 2.3% from 2.7% – not an insignificant change. In reality, and as is often the case, the pound is in the hands of its Eurozone and US counterparts. While GBPUSD did move lower in reaction to Friday's US jobs data, sterling is largely in the same ranges that we've seen in the last week. Correspondingly, the sell-off in the euro-dollar rate at the end of last week, allowed sterling to push back up by 1% on the day. Later in the week look out for Carney speaking at Mansion House as well as UK Manufacturing and Industrial Production data on Wednesday.

USD
Friday's Non-Farm Payrolls comfortably beat expectations and allowed the US dollar to gain drastically across the board as the markets moved towards the end of the week close. Despite data of late being largely mixed for the US, the positive employment figures reassured markets as to their expectations that the FED will commence interest rates lift-off before the end of the year. Correspondingly, Danske, Bank of America Merrill Lynch and Morgan Stanley all remain short GBPUSD, while Barclays and Danske (again) maintain their EURUSD shorts. While the recent move higher has allowed shorts to get back into the market, ultimately it means that stops are being stacked up again at higher levels again. A further short squeeze on the dollar in the coming months could potentially take EURUSD and GBPUSD to new highs again.

EUR
Reports over the weekend on Greece fuelled further negativity for the single currency, leading to EURUSD continuing to soften and shy away from the recent peaks seen last week. Support remains above 1.10 for now and with the Greece situation continuing there remains a risk that it will be questioned again soon enough. EU officials over the weekend (again) voiced their exasperation with the Greek PM leading Soc Gen to suggest that "prolonged uncertainty on the Greek political saga, we continue to expect an increased political risk premium priced in the EUR". German data released already this morning continued the trend for beating expectations – both Industrial Production and Trade Balance comfortable beat consensus forecasts – and has leant the euro a little support first thing. Whether it is enough yet to start changing sentiment on the euro remains to be seen.
UK HEADLINES
FT- Cameron to demand ministers quit government if they campaign for Brexit.
Times- Deutsche Bank co-chiefs step down amid fresh scandals.
Independent- Chancellor is relying on credit card spending to maintain growth – TUC.
Pound Sterling, Euro Currency, US Dollar exchange rate commentary is provided by Argentex (Ag-Fx.com)