GBP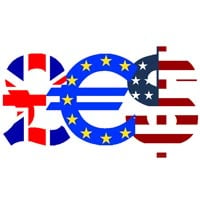 CPI for the UK is expected to show no growth on a year-on-year basis, and with economic data under-performing versus expectations since the turn of the year a miss to the downside would be quite deleterious for pound strength – leading indicators point to a greater chance of softer price growth in the short term, which would weigh on rate hike expectations and limit sterling's upside. Danske Bank is long GBPUSD with a take profit target all the way up at 1.5945, while Morgan Stanley is waiting on the side lines for 1.60, at which point they will enter a short position targeting 1.56.

USD
This afternoon's release of Building Permits and Housing Starts will add colour to overall sentiment but won't do much for short term dollar strength or weakness – the market are waiting for tomorrow's FOMC meeting minutes. After tomorrow's announcement we have the Philly Fed Manufacturing Index on Thursday and CPI on Friday. CPI is a less important indicator for the States then the UK, as rate setters have moved to other metrics in deciding the appropriate timing for a rate hike, namely wage growth and productivity.

EUR
The euro is showing some signs of struggling to maintain recent gains. Tsipras says they are close to a deal but everyone has stopped listening to anything he says, and more weight is being given to an EU spokesman who said that current negotiations in Latvia are unlikely to yield a solution – and time really is running out. Tsipras even had the gall to say that the current liquidity drought in Greece is "neither the choice nor the responsibility of Greece" – well whose is it then?! Sentiment indicators for Germany and the Eurozone as a whole are due for release this morning, and it's likely that the car crash that is Greece will weigh on sentiment. Whether this translates into any directional impetus for the euro we will have to see. Positions in the euro are mixed – Credit Suisse Group, Danske Bank and JP Morgan Chase & Co are long EURUSD, whilst Credit Agricole and Barclays plc are holding on to their short positions.
UK HEADLINES
Telegraph – PPI still dominating complains against UK banks.
Independent – Small business owners say UK must remain in EU.
FT – Office construction in London rises 24%.
On this day in 1649 England is declared a Commonwealth. In 1940 Churchill made his first broadcast as Prime Minister, and on this day in 2161 there will be syzygy – when all plants align on the same side of the sun.
Pound Sterling, Euro Currency, US Dollar commentary is provided by Argentex (Ag-Fx.com)
Join us on our new LinkedIn page
You can read the full EURUSD GBPUSD JPM archive by clicking the EPIC code.