GBP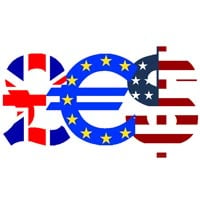 The Great British Pound has benefited from an environment in the latter half of this week of no news is good news. Focus is squarely on Greece, and the only real data released has been from the US, and it's no different today. The greenback is pushing back above 1.55 against the dollar and looks likely to make another push to 1.40 against the euro GBPEUR. Credit Suisse and Danske Bank are now both long GBPUSD, with profit targets at 1.57 in the short term, however there's a lack of anyone taking any significant positions against the euro as the degree of uncertainty is too high for even the thickest skinned traders. Important data next week for the pound includes CPI on Tuesday and the MPC meeting minutes on Wednesday.

USD
Bonds have been sold aggressively recently, and it's reaching the point that it is having a moderate economic impact – if it continues it's entirely likely that the Fed could sit up and take notice, leading to a delay in their planned rate hike schedule. However, data from the US since May has steadily outperformed analysts' expectations, indicative that the world's largest economy continues to recover at an underestimated pace. Fed funds futures currently place the greatest chance of a rate hike in the October meeting – the closer we get to Q4 this year the more sensitive the dollar will be to data. There's plenty of data next week to interest the market, with the most important being the FOMC statement on Wednesday at 1900.

EUR
The IMF said that Greece is making "no progress" on a deal to unlock the last tranche of bailout money it needs to continue functioning. An emergency meeting yesterday was, according to Germany's Juncker, a "last attempt" to thrash out a working deal. Greece has rolled this month's payments into a single €1.5bn now due on June 30th, and next month it has further huge sums due to the ECB. Nomura, Danske Bank and Barclays are all short the euro against the dollar, targeting from 1.09 all the way down to 1.02. Morgan Stanley has placed a bet that the pair will rise to 1.1430. ZEW and CPI are important pieces of data next week from the Eurozone, however the inexorable march of Greece towards oblivion will distract most traders from taking much notice of data.
UK HEADLINES
Telegraph – EU issues final warning to Greece as last-ditch talks achieve nothing.
BBC – Years more spending cuts to come.
FT – UK Industrial Production rises sharply.
Pound Sterling, Euro Currency, US Dollar exchange rate commentary is provided by Argentex (Ag-Fx.com)
Join us on our new LinkedIn page
You can read the full EUR GBPEUR GBPUSD USD archive by clicking the EPIC code.