What is interesting about the daily chart progression in terms of Bushveld Minerals Limited LON:BMN is the way that while we have seen a decline since the summer for the stock from above 4.5p, the decline has been interspersed by quite sharp attempts at recovery.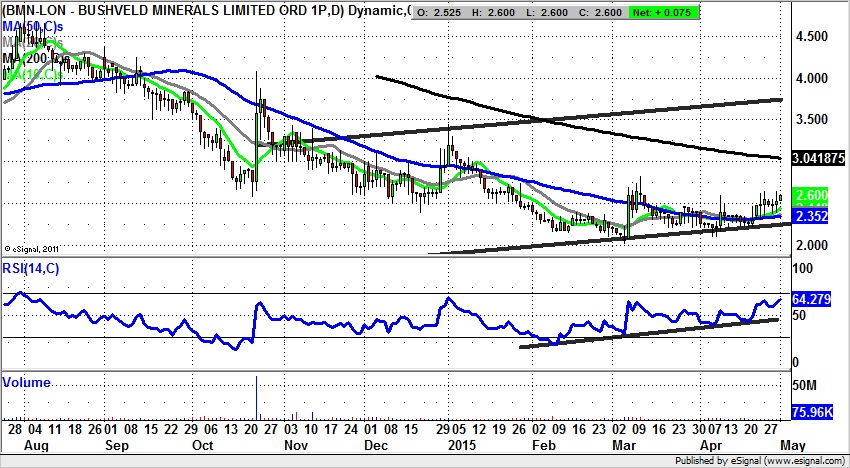 This was particularly the case in October, at the beginning of January, and even in March. However all of these faded after brief spikes through the 50 day moving average were met with quite aggressive selling. However, the present position is more encouraging despite the recent domination of bull trap disappointments, as it is the result of bullish divergence in the RSI window which has been in place since February.
The latter should be enough to provide ongoing momentum to the bottom fishing community, while the way that the stock has over the past couple weeks found support at and around the 50 day moving average of £2.35 does suggest that on this occasion with the 50 day line also rising, we could be due for at least an intermediate rally for Bushveld Minerals Limited.
Indeed, the favourite scenario for Bushveld Minerals Limited LON:BMN would be for a journey towards the 200 day moving average currently at 3.04p, especially while there is no end of day close back below the 50 day line. If the 200 day moving average can be broken relatively quickly, over the next couple of weeks, we could see a top of November price channel heading as high as 3.7p over the next 1 to 2 months.
Join us on our new LinkedIn page
You can read the full bmn archive by clicking the EPIC code.