GBP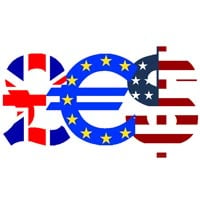 Manufacturing Production from the UK printed a decline of 0.6% vs an expectation for an expansion of 0.1%, which set the tone for a struggling pound all day, which lost ground against both the dollar, and yes ridiculously, even the euro. Barclays sacked their CEO Anthony Jenkins, which is dominating the press this morning, although market impact isn't likely to be substantial. As always the NIESR GDP estimate was ignored by the market, which guessed that our economy grew by a fairly respectable 0.7% last quarter – the official ONS figures following suit would likely provide more impetus for sterling strength, but we shall see. The budget today will be watched closely, and should (hopefully) be fairly pro-business given it is the first full Conservative budget for quite some time – anything positive for business will be welcomed by the market and may translate into some sterling strength, however the main spotlight and event that traders will be waiting for will be this evening's FOMC meeting minutes form the US.

USD
Ugly doesn't come close to describing sentiment, especially as far as China is concerned. The Shanghai and Shenzen indices, which peaked in June, have since fallen by over 30%. More than half their constituent companies suspended trading in a bid to avoid being sold off, and the government are introducing rules to make it harder to sell stocks – not exactly the bedrock of a free market, and not that it seems to be helping. The bleeding is seeping through into the rest of the world which is already nervous over upcoming Fed tightening and of course Greece. Trade Balance figures were marginally better than expected, and the JOLTS job openings numbers continued to paint a picture of a tentatively improving labour market – neither had any market impact. The same probably won't be said for this evening's FOMC meeting minutes, which should be growing in impact as we get closer to the expected time of the first rate hike.

EUR
Greek Prime Minister Tsipras laughed and pointed to his watch as he left the European Council HQ yesterday. Is he mental? Quite possibly. He has until Friday to present a proposal (again) for creditor assessment (again) so they can decide whether to extend further aid or reject it (again). Merkel said she was not "exaggeratedly optimistic" for a solution. Maybe the euro might react once Greece is rejected and there's a full-blown humanitarian crisis, then again maybe not.
UK HEADLINES
Telegraph – Europe is blowing itself apart over Greece, and nobody seems able to stop it.
Independent – Medicines start to run out in Greece.
FT – Lower welfare, lower tax.
Pound Sterling, Euro Currency, US Dollar exchange rate commentary is provided by Argentex (Ag-Fx.com)