GBP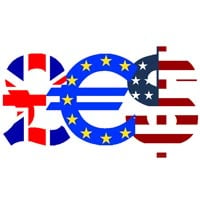 The Quarterly Inflation report was slightly on the dovish side, with growth forecasts cut to 2.25% from 2.5% previously. Whilst citing a stronger pound as causing some headwinds to growth, Carney laid the bulk of blame squarely at the feet of labour market productivity. Jobs are being created, and unemployment is technically low, but the jobs are low-skilled low-paying jobs. Another barometer pointing towards slack productivity is the 'Hot Waitress Index' which works on the premise that attractive people find it easier to find better, higher-paying jobs quicker as the economy picks up – it's not exactly scientific but anecdotally at least the Hot Waitress Index is apparently as high as it's been since the crisis began, and it's a leading indicator. The pound was knocked on release of the report, but held up well as there weren't any major revelations that should have been a shock to anyone, and this morning sterling is making new highs for the year against the dollar.

USD
Data hasn't been fantastic this week as far as the US are concerned. Business Inventories were slightly better than expected but JOLTS Job Openings, Retail Sales, Import Prices and Crude Oil Inventories were all below expectations. The market is not so weighted in one direction with respect of speculative positions – Danske Bank, Credit Suisse and JP Morgan are all long EURUSD, targeting just below 1.15, whilst Barclays remain short, with a stop loss at 1.1680. On GBPUSD Danske and Morgan Stanley are both long, with take profit orders at 1.5945 and 1.58 respectively. Credit Suisse are also waiting to go long, but want to see a dip to 1.5525 before jumping in with a target of 1.5825.

EUR
Despite talks continuing to fail to reach a resolution in Greece the euro is, as ever, reacting very illogically and making new highs against the dollar, and managing to prevent sterling from consolidating above the important psychological 1.40 level, although the latter was helped by a slightly dovish inflation report. Draghi is speaking this afternoon in Washington, but he probably won't say much to interest currency traders. Whether or not it will have any direct impact on the euro or not I really don't know but next week we have the important, on paper at least, releases of ZEW Economic Sentiment, Ifo Business Climate and a whole raft of PMI releases.
UK HEADLINES
Telegraph – Interest rates set to rise next year even as growth falters.
Independent – Carney relaxed about global bond sell-off.
FT – UK forex enquiry inquiry comes under US pressure.
On this day in 1796 Jenner became the first to demonstrate a successful vaccination – he vaccinated a boy against smallpox by using diluted cowpox. In 1889 the NSPCC was formed. Israel declared independence from under British administration in 1948.
Pound Sterling, Euro Currency, US Dollar commentary is provided by Argentex (Ag-Fx.com)
Join us on our new LinkedIn page
You can read the full EUR EURUSD GBP GBPUSD USD archive by clicking the EPIC code.