GBP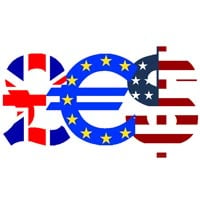 The rate announcement form the BoE will be ignored, and the format hasn't changed yet to the new 'Super Thursdays' so there will be no accompanying statement. With little other data from the UK the pound will be at the whim of the euro, which is causing some violent swings in bond prices and by extension the single currency itself. Services PMI came in at 56.5 versus expectations of 59.5, hurting the pound and making it the whipping boy for the day, especially against the euro, where it headed into the 1.35's. The services sector is by far the largest contributor to UK GDP, hence the pound's sensitivity to weak data such as this. The move against the euro has been sharp enough to see a gradual drift back in correction, however be wary of a deal being announced in Greece, which will come at sterling's expense.

USD
Part III of the doom and gloom report: Carl Icahn said "You have to be worried by what's going on. I mean, consumers really aren't spending and sooner or later the Fed won't be able to keep this market up by itself". He was talking about IPOs. There are current 65 VC backed startups in the US with a valuation of $1bn or more, and hardly any of them actually make a profit. At the end of 2014 the total value of VC-backed startups reached $750bn, which would represent 2.5% of total US stock market capitalisation. Guess what, this represents a record high, and the last peak? Just under 2.5%, in the first half of 2000 – yet again no prizes for saying what came next. IPOs surging too high can counter-intuitively be a bad thing – IPO money represents "stupid" money, and firms flock to IPO when "smart" money stays on the sidelines, as it is beginning to do now. The same thing is going on in the UK – loss making companies being 'valued' at $1bn or more – something has to break.

EUR
Draghi didn't get attacked at yesterday's press conference, they've tightened security since last month's protest so it wasn't quite as entertaining viewing. However the content was far more interesting than last month's with a clearly hawkish tone that had murmurs of 'green shoots' flying around various media outlets. As such a hawkish tone is wont to do, it pushed the euro higher, especially against the dollar. The move a day prior looks very much like someone at the ECB leaked the speech to some of their mates in hedge funds, who piled in with a full 24 hours advantage over the rest of us. Spanish Minister Guindos stated that "it is very clear that a Grexit is not on the table", whilst Tsipras said he expects a deal within days – we've heard that before. At the same time a Greek government spokesman said that if creditors don't back down from ultimatums then Greece will hold a general election. Still bumpy, but it's looking like a deal could be done soon.
UK HEADLINES
Telegraph – Greek PM heads for showdown in Brussels as deadlock continues.
Independent – City told to brace for a wave of stock market flotations.
FT – OECD urges Osborne to ease back on cuts.
Pound Sterling, Euro Currency, US Dollar exchange rate commentary is provided by Argentex (Ag-Fx.com)
Join us on our new LinkedIn page
You can read the full EUR GBP USD archive by clicking the EPIC code.